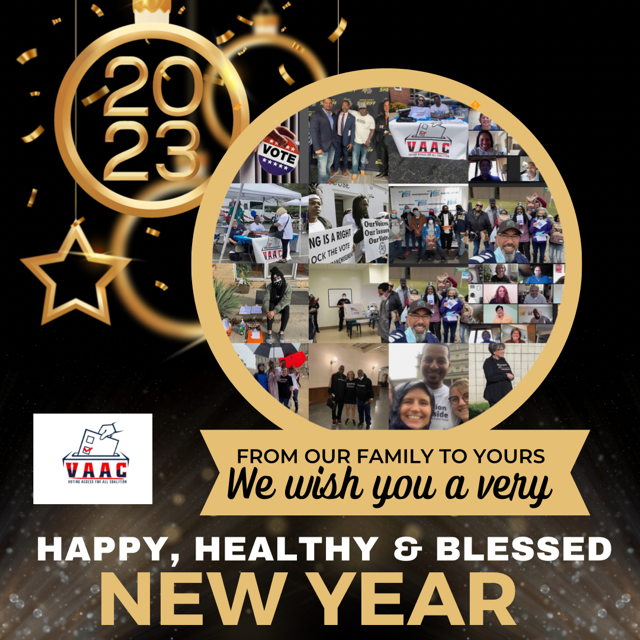 As we close out another year, we'd like to express gratitude to our VAAC family.  We know that Civic Engagement is more just than voting and that coalition building is power!  It's been a transformative year and we couldn't have done this work without you. We're constantly impressed and inspired by this community.  VAAC is so grateful to have partners, friends and allies like you.  We are so proud of what we've been able to accomplish. 
As we prepare to ring in the new year, we reflect on and celebrate the victories 2022 brought us and remember those that we lost and continue to hold dear.
Together we made history!
Our efforts to empower people and build communities began with a vision— that any persons with a felony, or criminal record have the knowledge and opportunity needed to vote. Together, through community organizing, we made sure that Michiganders were informed and empowered to cast their vote in this year's election. All the hard work put into strengthening our democracy paid off with ground-breaking victories. Together, we demonstrated the power of our community and of everyday people dedicated to protecting civil and constitutional rights. Michigan sent a resounding message to the rest of the country when they cast their "yes" votes for Proposal 2 & 3. Thanks to the passing of Prop 2, the Michigan state constitution will include voting accessibility as a fundamental right, add 9 days of early voting, and secure that all votes cast will be counted without interference. Prop 3 ensures that Michigan remains a state where everyone has access to reproductive healthcare. 
This year, we proved that when we organize together, we win.
In 2022 we saw our civil rights challenged in unprecedented ways-– from the overturning of Roe v. Wade, to mounting efforts to suppress the voices of our justice-impacted community. With your support, we made a tremendous impact and saw that when we work together we are able to overcome road blocks to voting placed in the path of justice-impacted Michiganders.
We are so proud of what we've been able to accomplish together!
We knocked on 2300 doors.
We made 75,000 phone calls.
Our outreach team worked more than 100 events 
We registered more than 900 individuals to vote in 9 county jails.
As part of our mission to build a more vibrant and inclusive democracy — we organized to make a difference in our communities by reaching out to friends and families of justice-impacted individuals to make sure they were registered and had a plan to vote on or by Election Day. VAAC also hosted voter education initiatives for advocacy and organizing, including coordinating grassroots action to build civic participation, register voters, turn out voters, and to pass legislation to protect voting rights.
From continuing the critical conversations that have always been at the heart of this network to connecting with each other in new ways, 2022 has been a remarkable year, and we're so grateful to every person who was part of it. Peace and love to you all and thank you for fighting with us another year. We wish you and your loved ones a wonderful 2023! Happy New Year! And as we look ahead to 2023, we recognize the many challenges that lie before us. While there exist extremist, anti-democratic policies that prevent anyone in our community from having the knowledge and opportunity they need to be able to cast their ballot — we must continue to organize for policy changes driven by ideas, and we won't rest until justice is made real and every justice-impacted Michigander has access to the resources and support they need to successfully vote.
As we say goodbye to 2022, we also want to honor the lives of Daniel Jones and Earl Burton and uplift their vision of a system that is fair, equal, just and inclusive of us all.   These fearless warriors fueled us in the fight to reverse and transform systematic disenfranchisement, disinformation and voter suppression, and to ensure voting rights for all. As we mourn our VAAC pioneers, leaders, friends, and all those we lost this year, we stand in solidarity with our community to celebrate their lives and carry on in their spirit to achieve their goals. Please view our special tribute to Danny here. And a special video dedication to Earl can be viewed here. 
What better way to begin the New Year than by starting through the expungement process.? Expungement works to ensure people get free legal help to complete the often lengthy, expensive expungement process. Register for this upcoming expungement event to learn about eligibility and get connected with resources, information and possible assistance. Pre-registration is encouraged.
All the best,
VAAC Leadership Team
P.S. We organize 365 days a year to keep our communities engaged in civic education and are asking for your continued support as we expand our work. If you want to help  us start off the new year strong, there's still time to contribute to our end of year campaign. Your gift will help to fund our vital in-jail voter registration drives & community outreach initiatives. There is still much more to be done! Will you join VAAC in this important work and fight with us to expand voting access for all justice-impacted Michiganders? Click the link to donate.  https://secure.actblue.com/donate/vaac