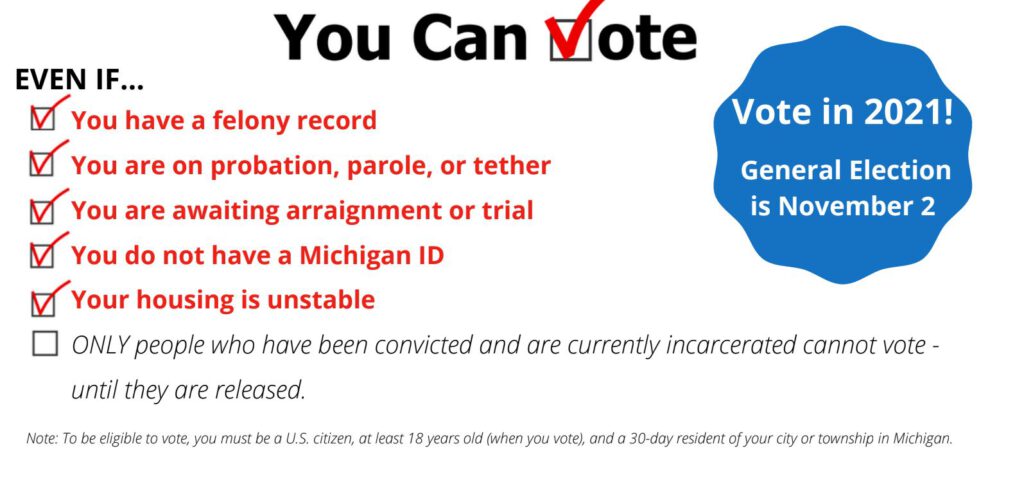 For Michigan and National Election Information
There are many wonderful resources available that help you register to vote, request an absentee ballot, find your polling place, view sample ballot and more. Vote411.org, a service from the League of Women Voters, takes you from start to finish. Just type in your address and go!

Get a Michigan ID – Voting is easiest when you have a state ID. You can still vote without ID.
Questions? There are people to help!!
The Nonpartisan Election Protection Hotline
En espanol 888-VE-Y-VOTA (888-839-8682)
Visit www.michiganvoting.org or email [email protected]
Every Election Matters
Local leaders make decisions that impact our lives.
Appoint Police Chiefs
Set Local Criminal Legal Policy
Set Housing and Employment Policy
Physical, Mental Health and Substance Abuse Policy
Elected Sheriffs, Prosecutors and Judges play major roles in the Criminal Legal System and how it functions.
Hear Our Voices – Returning Citizens speak about what voting has meant to them.