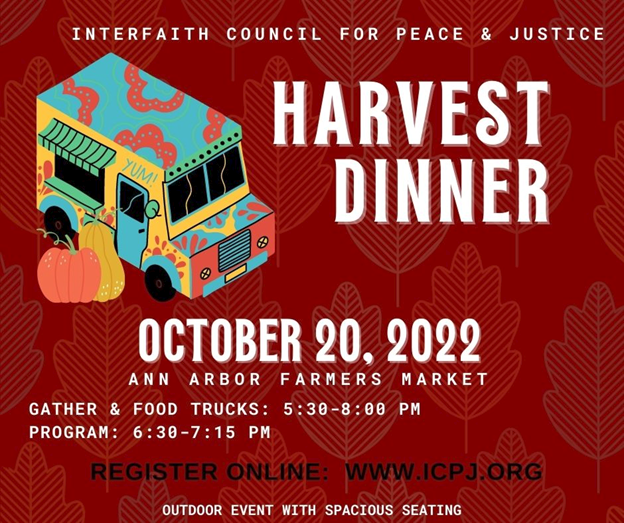 Interfaith Council for Peace & Justice will present VAAC with the first ICPJ Network Weaver award at their Fall Harvest Dinner on October 20th, from 5:30 – 8:00 p at the Ann Arbor Farmer's Market
Weaving connection is the heart of our mission at VAAC: to build community and connect our rich diverse communities of Michigan. Our coalition is weaving a tapestry of dignity such that every voice is heard and lifted! We are honored to be in coalition with the ICPJ community which also works tirelessly to treat people with dignity and justice!
All invited. Register here
http://p0.vresp.com/E2K6tm
Full Details Below:
ICPJ HARVEST DINNER
Ann Arbor Farmers Market
Thursday, October 20th 5:30 – 8PM
We will be honoring activists who embody the values of ICPJ.
2022 Peace & Justice Honoree: Sheri Wander
Peace and Justice Network Organization: The Dispute Resolution Center (DRC)
Emergent Leader: Victor Liu
Anti-Racist Advocate: Alyshia Dyer
Network Weaver: Voting Access for All Coalition (VAAC)
The Harvest Dinner is ICPJ's largest fundraiser for this year. Join us to build our ICPJ community and to raise the resources needed to sustain ICPJ's leadership and activism. Tickets are available for all income levels, including free tickets for friends. All are welcome! Registration Required at Online Harvest Dinner Registration or print, complete, and mail the mail-in Harvest Dinner Registration form located here. There are no bank fees if you send a check. Dinner will be informal, with opportunities to honor our awardees, entertainment, & food trucks. With your purchase, you will receive dinner tickets to be used at the food trucks.