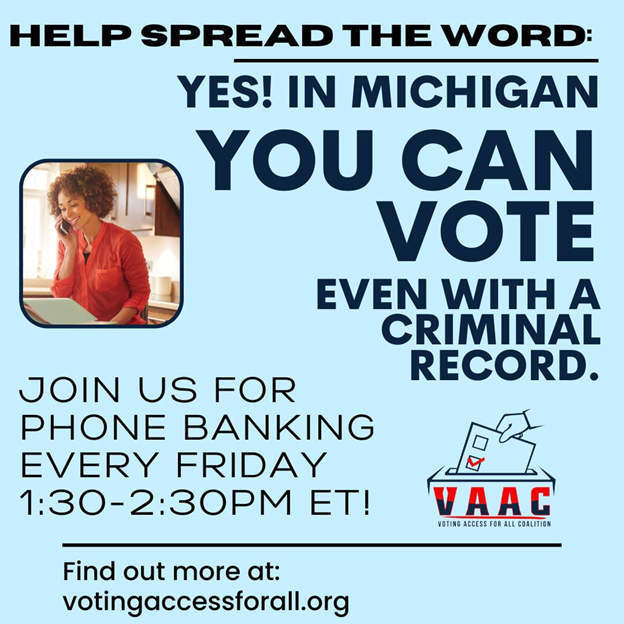 We are weeks away from the Nov 8th general election, and we need your help to ensure we use our power at the polls across Michigan. Right after our general VAAC zoom meeting on Fridays, we will be hosting phone banks on October 14, 21,38 and November 4th.
Join the fight! There is too much at stake! We need to ensure that all voices are heard at the polls! Help us to get out the vote from the comfort of your own home… White supremacist violence is on the rise, our schools and communities are underfunded, wages are too low, and bills are too high. We need policies that work for us and leaders that will have our back – and this November is our chance to secure just that. Just like in 2020, voters in Wayne County will be crucial in deciding the direction of our country, but not if we don't get in the game. Help us GET OUT THE VOTE and win at the polls!
Join us this Friday, 10/14 from 1:30-2:30 PM OR ANY FRIDAY BEFORE THE ELECTION! SIGN UP HERE. We'll be
We need your help to ensure we use our power at the polls across Michigan! We're only weeks away!We're texting and calling thousands of voters across Michigan and making sure they have everything they need to cast their ballot on or before election day, November 8th – and we need your help. Sign up for one or more of our upcoming phone banks to help us get out the vote!
No phone or text bank experience? No problem! We'll provide a short training at the start of each event.
All you need is a cell phone or tablet, an internet connection, and a passion for helping to build voting power!
Thank you for your commitment to fighting for a democracy that represents us!