Strong Turnout At Emergency Action To Shine A Light On The Poor Conditions Inside The Women's Huron Valley Prison

By Angela Davenport and Carrie Hatcher-Kay
In remembrance of Dr King's legacy and in honor of his fight for justice, on #MLK weekend, Sunday, January 16th, several hundred organizers, activists, friends & family, justice-impacted and formerly incarcerated members of the community and concerned citizens – came together to speak out against abuse and negligenceat Women's Huron Valley Prison. A host of media outlets were also present to witness the speakers, chants, signs and ongoing Twitter Storm centered around exposing the abhorrent conditions of Huron Valley Prison and to uplift MLK's clarion call that "​Injustice anywhere is a threat to justice everywhere!"
Led by a coalition of organizations, several hundred people came out to protest the hellish, inhumane and unconstitutional conditions inside Huron Valley Correctional Facility, Michigan's only prison for women. For decades women have been subjected toovercrowding, mold, sexual harassment, inadequate healthcare and countless abuse. We lift up the collective of groups, activists and organizations that came together to lead Sunday's action: including Silent Cry, Redeeming Kimberly, MI-CEMI Survivors Speak, Nation Outside, JustUs N.O.W., Emergent Justice, VAAC and so many more. Our own VAAC sisters, Kimberly Woodson and Natalie Holbrook helped to organize Sunday's rally, along with our sisters in the movement: Trische ' Duckworth, Elisheva T. Johnson, Shawanna Vaughn and Ashley Goldon, who gave powerful, impassioned speeches— speaking out against the continued lack of action to improve these cruel, inhuman, degrading conditions. Check out some of the iconic photos from that day.

Ashley Goldon, director of Nation Outside, a Michigan-based organization dedicated to supporting justice-impacted individuals, recounted her experiences in the facility during her speech, "Before I was an advocate, before I was a director of Nation Outside or had a pot to piss in, I was identified as 681349," Golden said. "We can't heal our nation by treating the most vulnerable population like animals. Even the pounds give their beasts access to heat and water."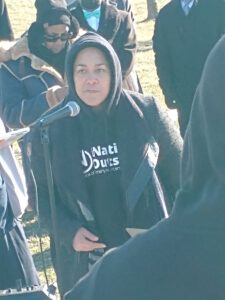 Although Women's Huron Valley has been problematic with its overcrowding and abuse long before COVID, the pandemic has exacerbated the problems and has made it much more urgent for us to take action.
For several months, Prison Radio has been receiving and amplifying the voices of women calling in to share details of the public health nightmare that is the Women's Huron Valley Prison. The decrepit buildings host decades-old sewage, heating & cooling systems and moldy walls that are painted over rather than treated. Broken hot water tanks are not properly replaced, resulting in several units having hot water shortages, which is only amplified by the increased overcrowding. Correspondents like Auroniece Jackson have been calling with reports of serious overcrowding and staffing shortages; scabies outbreaks, inadequate masks and Covid protections; grossly insufficient health care (mental, physical, sanitary care); escalating reports of sexual harassment, violence and abuse.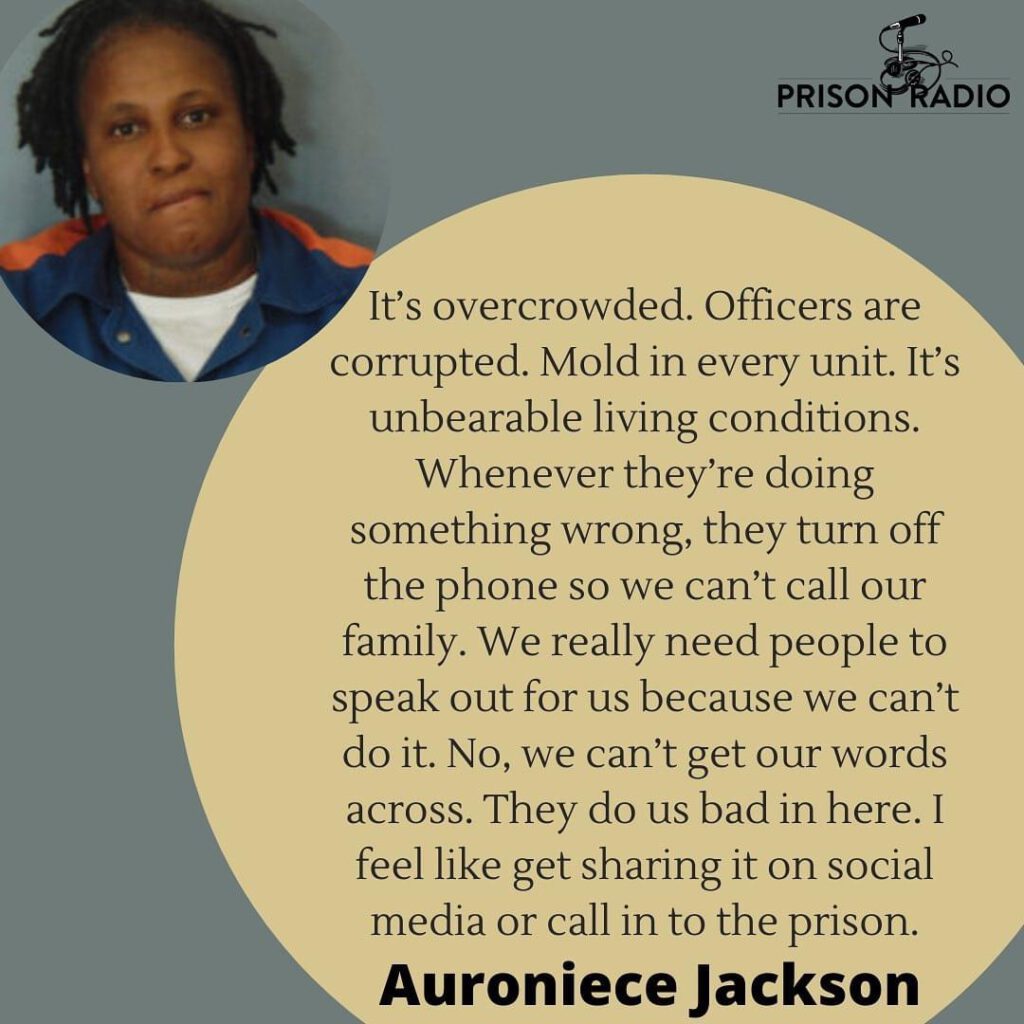 People are living in inhumane, unconstitutional conditions. If we treated animals this way, someone would call PETA or the ASPCA.
Overcrowded, under-resourced facilities that are filled with people who have other chronic illnesses is a perfect storm for large COVID outbreaks. These conditions have led to a COVID surge at Huron Valley, which according to the Detroit Free Press, the facility "constitutes 60% of all known COVID cases among the incarcerated in the state of Michigan."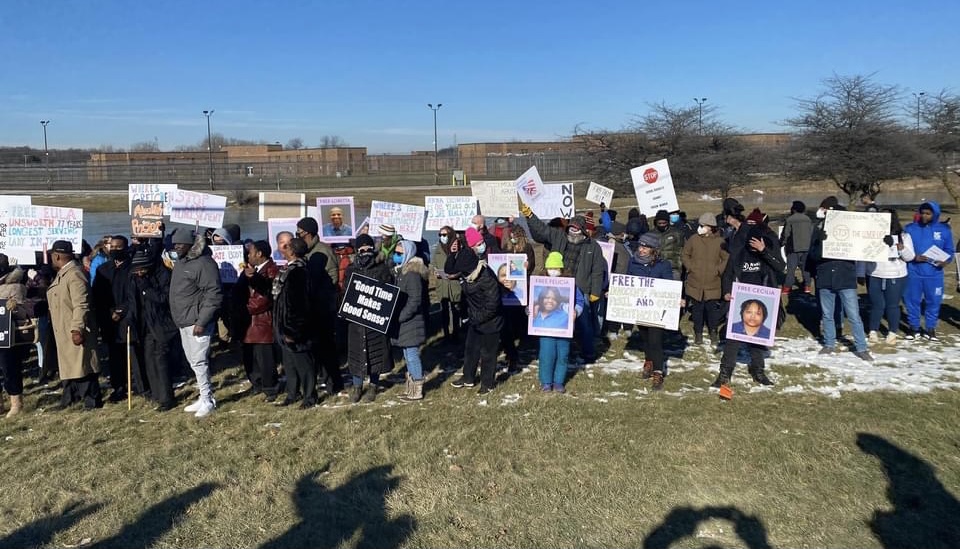 WHAT NEXT?!
What happens at Women's Huron Valley Prison doesn't stay there. The conspiracy of silence that has shrouded the prison for so long mustn't be allowed to continue. We need community oversight for the Women's Huron Valley Correctional Facility.
SB 487 will create a Community Advisory Oversight Committee for Michigan's only women's prison. This committee will have the authority to review conditions of confinement complaints, including everything from problems with food and nutrition to systemic issues with health and mental health care services.
The next step is for the bill to be given a public hearing before the Committee. Senator Roger Victory is the Chair of the Judiciary and Public Safety Committee, and it is his job to call for the hearing. EMAIL SENATOR ROGER VICTORY AND URGE HIS COMMITTEE TO GIVE THE BILL A HEARING.
To email Senator Victory and learn more about Senate Bill 487, go to bit.ly/HearSB487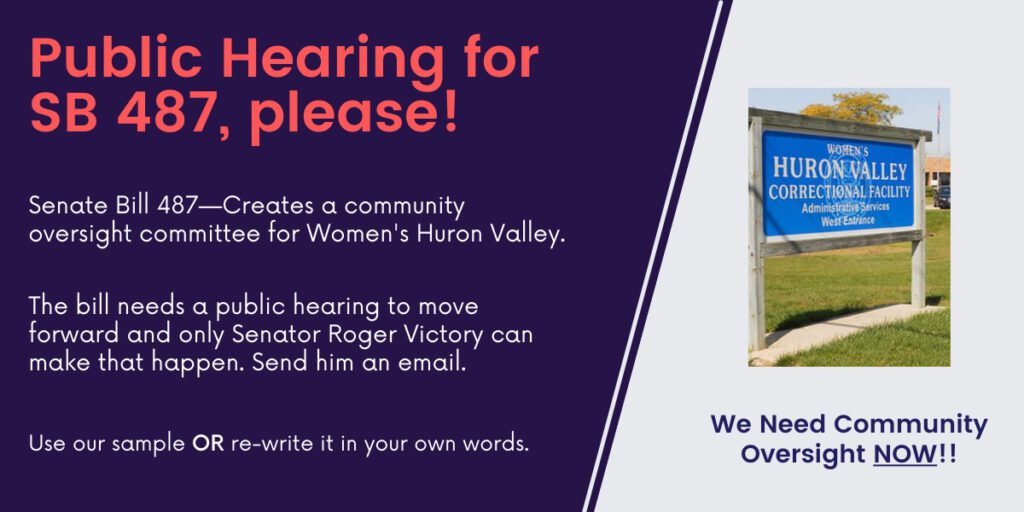 And join us for the next rally on February 13th from noon to 2– Details TBA