On February 10th, 2022, the Jail Reform Advisory Council will hold a public hearing on jails in Michigan. They are allowing people to offer public comments on issues that concern jails. We urge all VAAC members as well as the general public to take this moment to inundate the council with comments about jail voting no later than February 9th. Even better, if you can attend the meeting virtually at 9 am and speak, we urge you to do so.
We hope we can count on you to increase the volume on this important message!
Registering to speak and submitting comments is a bit tricky.
First go to this link and fill out the top part of this form.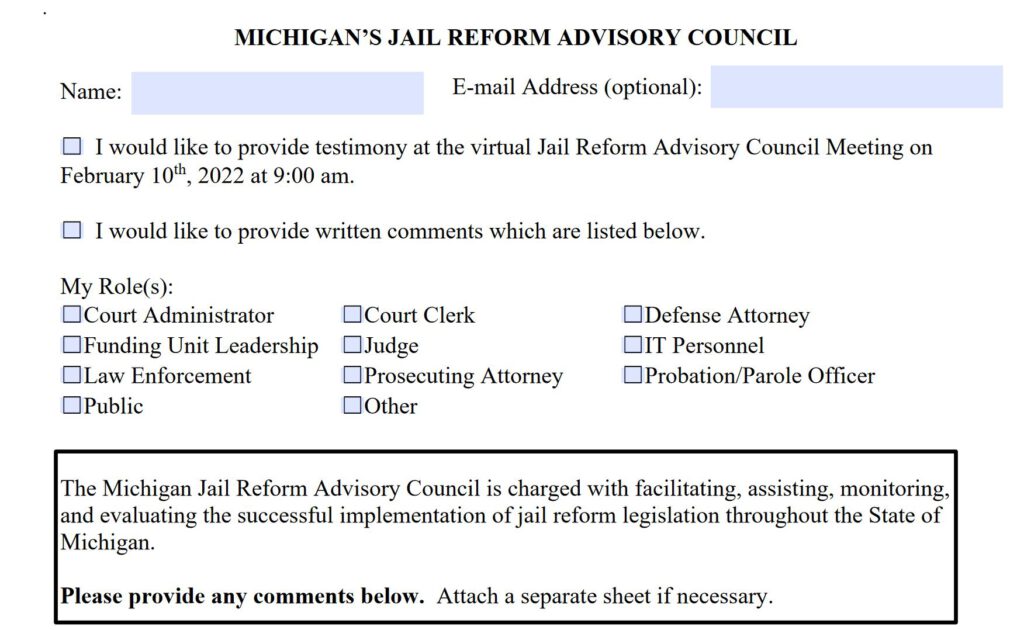 If you want to speak during the hearing, check the box next to "I would like to provide testimony at the virtual Jail Reform Advisory Council Meeting on February 10th, 2022 at 9:00 am." Otherwise, check the box that says "I would like to provide written comments" and type them in the large blue box below.
To submit your form, you will first need to save it to your computer drive or phone as a .pdf file.
Next, open your email program and create a new email to this address: [email protected]. Include the .pdf file as an attachment. You can also attach any supporting documents you wish to share. We suggest that VAAC members mention their affiliation with VAAC and include a link to the Ensuring the Right to Vote in Jail Report we produced in partnership with Nation Outside. Write your own message to the council or use this suggested language as a starting point:
I am a member of VotingAccessforAll.org (VAAC). In 2021, together with NationOutside.org, we published our Ensuring the Right to Vote (https://bit.ly/3IUmHj4)report. with data-informed recommendations on how to improve access to voting in jails. Please follow the link to read the report and work to implement the recommendations it offers.
We know our democracy works best when all voters can participate. Which is why Michigan can and should take steps to ensure that eligible jailed voters can have access to the ballot. Currently that is not the case. Jailed voters face major challenges in Michigan including but not limited to: confusion and misunderstanding of Michigan voting laws; difficulty in obtaining information about upcoming elections, problems in obtaining materials required to register and cast a ballot, mail restrictions and delays, and lack of Election Day voting opportunities.
Ultimately it is a failure of our democracy that thousands of eligible voters are excluded from elections every year merely because they are overlooked and under-resourced. Moreover, we know the population most affected by jail-based disenfranchisement also represents many historically marginalized voters: Black people, people with disabilities, people experiencing economic instability, and people experiencing homelessness. The Jail Reform Advisory Council can take steps to mitigate this harm. Thank you.
[Sender name]
These messages were sent by VAAC members. Feel free to incorporate their points into your own comments:
Example comment sent from Amani Sawari to the council
Sample comments from Tony Gant with a link to the jail report