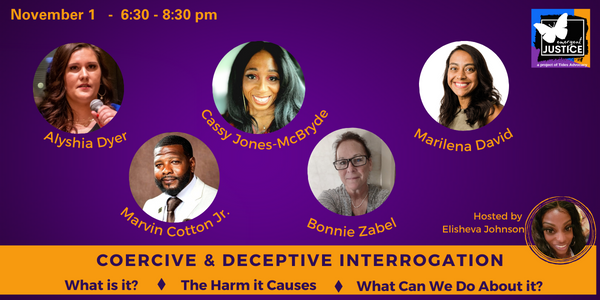 Why do innocent people make false confessions or take a plea deal? What can the police legally do in an interrogation that is illegal in other countries? Did you watch the Netflix miniseries When They See Us and think "That can't be legal"?

Since the mid-1950s, most United States law enforcement officers have been trained in interrogation techniques that focus on getting a confession, rather than gathering all the facts. At their core is the assumption that guilt is demonstrated through verbal and nonverbal cues in the interview process and that the use of coercion and deception in the interrogation is necessary to achieve justice. But does this really lead to justice? Is there a better way? Our panel will discuss it t in this Emergent Justice Online Event.  

Date: November 1, 2023
Time: 6:30 – 8:30 pm

RSVP HERE
Location: online The discussion will be shared live, but you must register to receive the link.