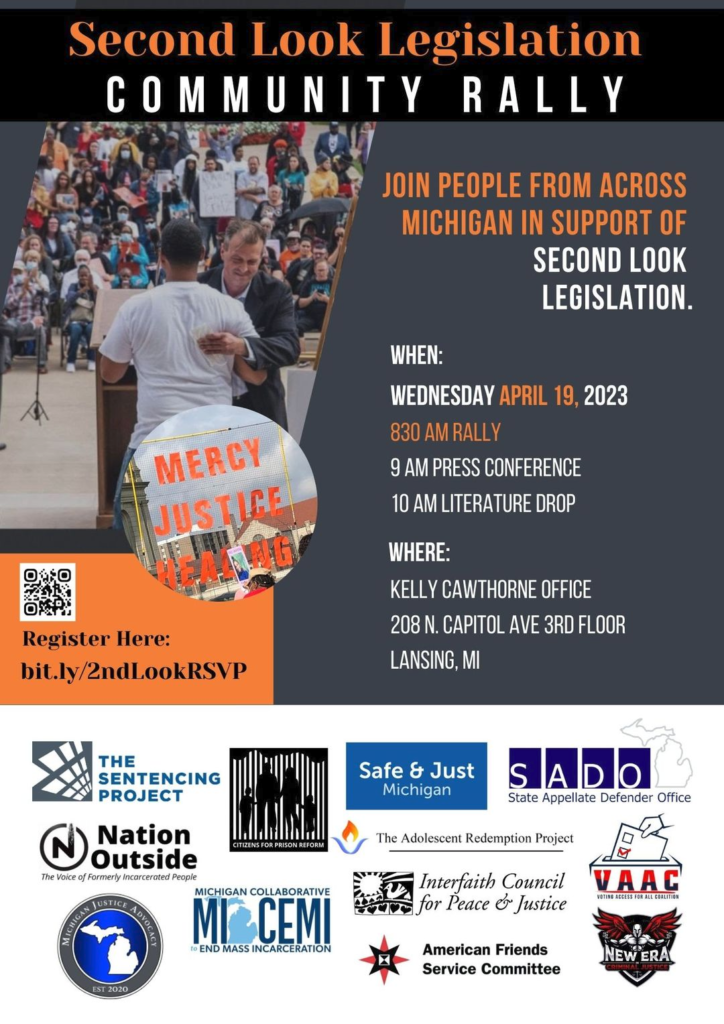 Second Look Legislation Community Rally & Press Conference April 19th, 2023
You are invited, Wednesday, April 19th to a day of Action to Support Second Look Legislation!
Join us for a rally & press conference with Senator Stephanie Chang, the bill sponsor.
The morning of community action and fellowship starts with a rally at 8AM on the sidewalk areas, then a press conference at 9AM inside, followed by an informative literature drop session at 10AM. Please register here . The coalition, including The Sentencing Project, Safe & Just Michigan, Michigan State Appellate Defender Office, Nation Outside, American Friends Service Committee, Citizens for Prison Reform, New Era Detroit, Michigan Justice Advocacy, Interfaith Council for Peace & Justice, The Adolescent Redemption Project, Inc.Michigan Collaborative to End Mass Incarceration & VAAC – Voting Access for All, has worked hard to garner support amongst stakeholders, community, and the legislature and this is an important step forward for this years-long effort. You can help advance this bill by sharing your stories with lawmakers, and help them to understand the impact and importance of this bill. We have a long way to go and we need you with us.
Please come and Support our Loved ones by supporting The Second Look Bill which will allow for true evaluation of their time and sentences! We need them home and in our communities.
Location: Kelley Cawthorne Building, 208 N Capitol Ave, Fl 3, Lansing, MI
Rally 4 Good Time April 20th, 2023 at 2pm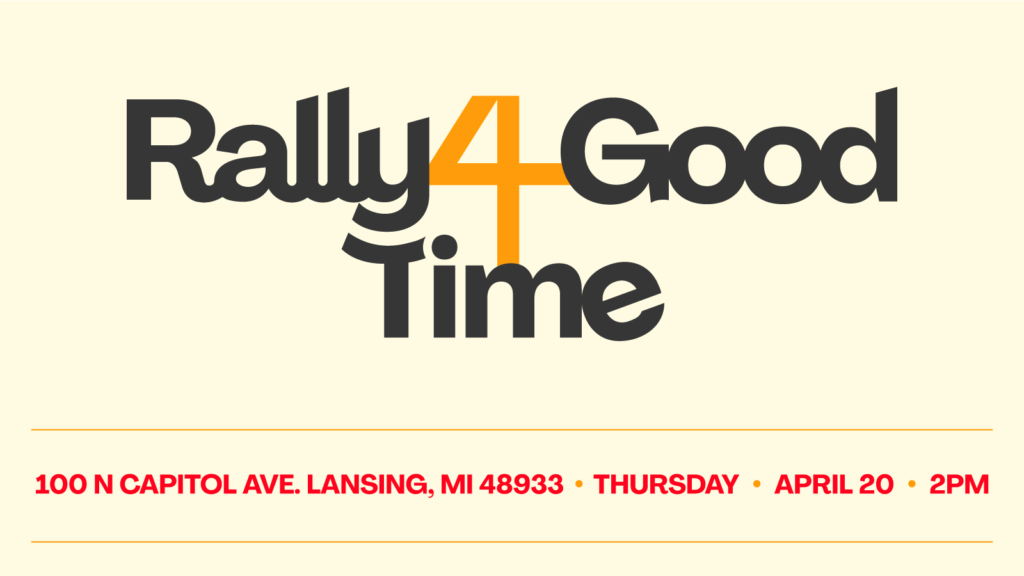 Join us on April 20th as we Rally4GoodTime at the Michigan Capitol Lawn!
Let your lawmakers know you support Good Time!
100 N Capitol Ave, Lansing, MI 48933
Michigan is one of only two states in the union which observes 100% Truth In Sentencing (TIS)
TIS is a policy that prevents incarcerated people from relieving any length of their sentence through good behavior, vocational training, programs, or educational opportunities. This means that no matter how a person engages with officially-sponsored opportunities during their time inside, they will serve the same minimum sentences they were originally given.
Together, sentencing guidelines and judicial practices mean people serving time in Michigan will serve prison sentences that are, on average, 40% longer than others across the country. This results in people serving 110% of their time.
Currently, TIS creates a situation where people in prison feel they have "nothing to lose." It drives up drug use, suicides, and disciplinary infractions. It exacerbates feelings of hopelessness and despondency. It is dangerous to both the people who live in prison and the people who work there.
It's Time To Bring Back Good Time
Good Time is an initiative that allows people to earn time off their sentence, rewards good behavior and program participation, and makes a safer, more purposeful prison environment. It supports rehabilitation and reduces recidivism, and will bring Michigan up to speed with the rest of the country in terms of progress and opportunities.