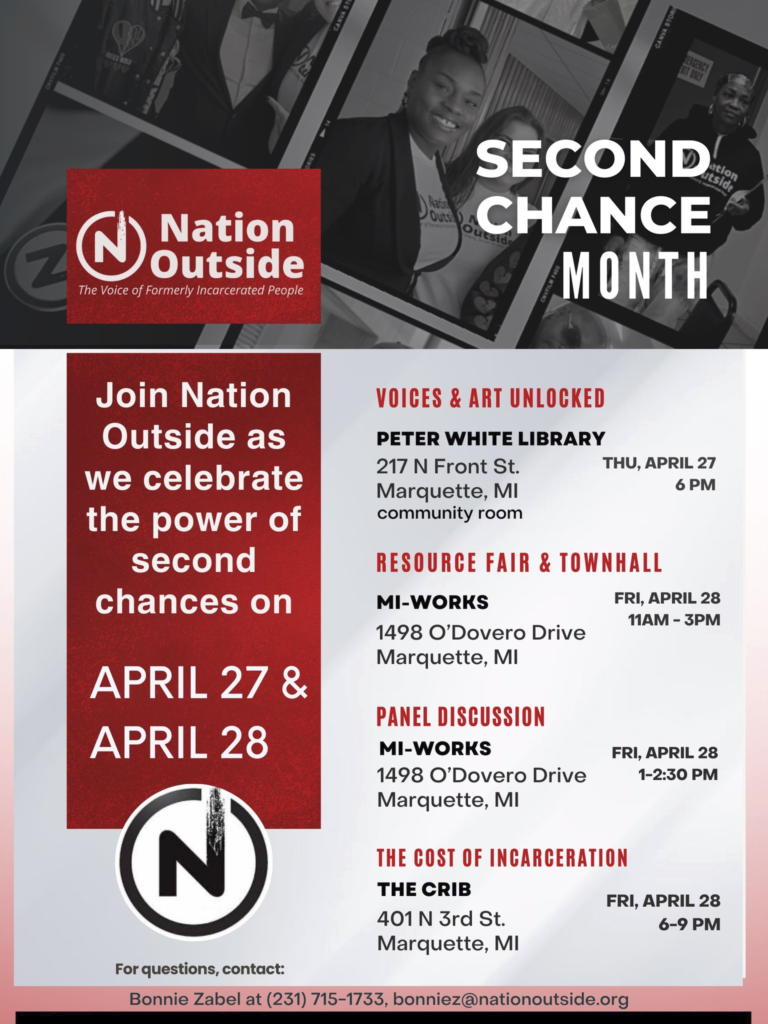 In Marquette, MI on April 27th & 28th Nation Outside, This Second Chance Month, Peter White Public Library, Marquette Poetry Society, People of Action Coalition and Prison Creative Arts Project bring you four events!
4/27/23 5:30-8:30pm: A Night of Art, Poetry, Music and Education on the Criminal "IN"Justice System
Event Location: Peter White Public Library at 217 N. Front Street, Marquette MI 49855
The event will also be streamed live on the PWPL Youtube Channel
Event Schedule:
5:30-6:15 pm Art viewing and refreshments
6:30 pm Music by Marquette 2022 Performing Artist of the Year, Troy Graham
7 pm Program and Discussion
The Event will be Streamed Live on the PWPL Youtube Channel
4/28/23 11-3pm: A Resource Fair and Town Hall
Event Location: MiWorks Conference Center, 1498 O'Dovero Drive, Marquette, MI 49855
The resource fair will run from 1-2:30 pm and will feature tabling by those who provide benefits and resources to the community, especially those that provide second chances in education, employment, housing, and voting. The Town Hall discussion will focus on Ending Juvenile Life Without Parole Bills & Current CJR Legislative Bills.
4/28/23 6-9 pm: A Panel Discussion on the Cost of Incarceration
Event Location: The Crib Coffee Shop and Bar, 401 N. 3rd Street, Marquette, MI 49855
Round Table Open Discussion on Why 2nd Chances?
Contact: Bonnie Zabel with questions or if interested in a resource table at [email protected]