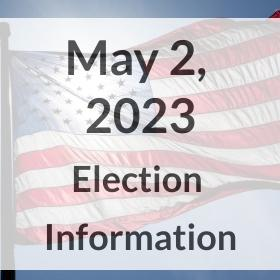 It's April already, which means that the May election is about 3 weeks away. Not every community has an election this May. Most are very local – affecting the public school system, city or township officials, or local services like fire You can check here to see if your community has an election on May 2.
The digest below is compiled by promotethevotemi.com and can serve as your one-stop shop for information related to the May 2 election. 
Leading up to the election, please remind voters that they can use the Michigan Voter Information Center (MVIC) (mi.gov/vote) to track their ballot and their application. All they need to do isclick on "your voter information" and enter the required information.
KEY DATES:
Now – Request your absentee ballot online or submit a paper application
Now – Vote in person at your city or township clerk's office using an absentee ballot
April 18 – Must register to vote in person at city or township clerk's office with proof of residency (this option is available through 8 p.m. on Election Day, May 2)
April 19 – Last day to return your absentee ballot by mail. After this day, only drop your ballot off at your city or township clerk's office or in a secure drop-box provided by your clerk.
May 1 – If you're registered to vote where you live, you can vote absentee until 4:00 p.m. at your city or township clerk's office. After that, you must vote at your polling location on Election Day.
May 2 – Election Day! The polls are open 7 a.m. – 8 p.m. local time. You can register to vote (or update your registration) and then vote at your clerk's office until 8 p.m.
REMEMBER:
In most cases, if a voter is voting by mail, their completed absentee ballot must be received by their city or township clerk by 8 p.m. on Election Day to be counted. However, thanks to Prop 2 of 2022, the ballots of voters serving in the military or living overseas must be postmarked by Election Day and received by their city or township clerk within six days after the election to count.
And of course, once that ballot is in the mail, we recommend tracking it via MVIC to ensure that it arrives in time to be counted. If there's no date under a particular step, it means that step is not yet complete.
Voters can use MVIC to see if:
Their application was processed by their city or township clerk
Their absentee ballot was mailed to them
Their completed absentee ballot was received by their city or township clerk
Because the MVIC tracking function is only available in English, the translated graphics and posts direct voters to call one of the election protection hotlines in languages other than English to track their ballot or application. The voter can give their name, birth month, birth year, and zip code to the trained hotline volunteer, and then the hotline volunteer can use MVIC to track the voter's ballot or application. Please note that these hotlines have limited hours for the May election, so a voter may have to leave a voicemail.