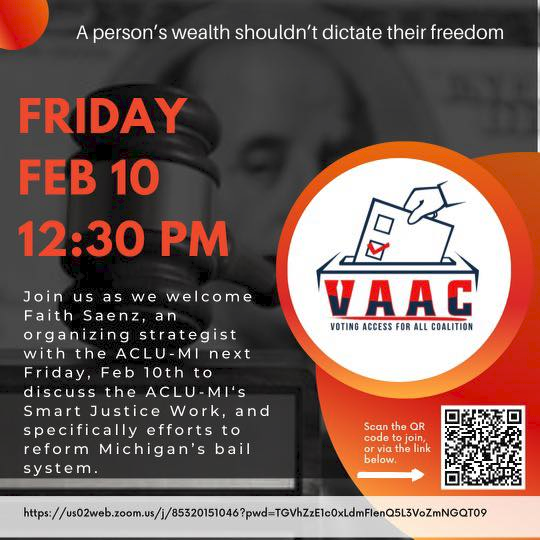 Please join our VAAC virtual meeting on Friday February 10th at 12:30 p.m., as we welcome Faith Saenz, an organizing strategist with ACLU-MI's. She will discuss their Smart Justice Work, with focus on efforts to reform Michigan's bail system. Use this link to join the meeting.
LET'S TALK BAIL REFORM ~ Learn how you can help end mass incarceration in the criminal legal system.
In a historic agreement reached with Detroit's 36th District Court last year, people will no longer be sent to jail simply because they cannot afford to pay their bail – including a disproportionate number of Black people. They now will be able to be home with their families and in their communities, where they belong, while waiting for their cases to go to trial.
With the effort to fix Michigan's broken bail system already underway, we need to join together to keep the momentum going by telling our legislators to act now. Please join us this Friday, February 10, at 12:30 p.m., as we welcome Faith Saenz, organizing strategist with the ACLU to speak with our coalition on how we can help bring change to this broken bail system.
.