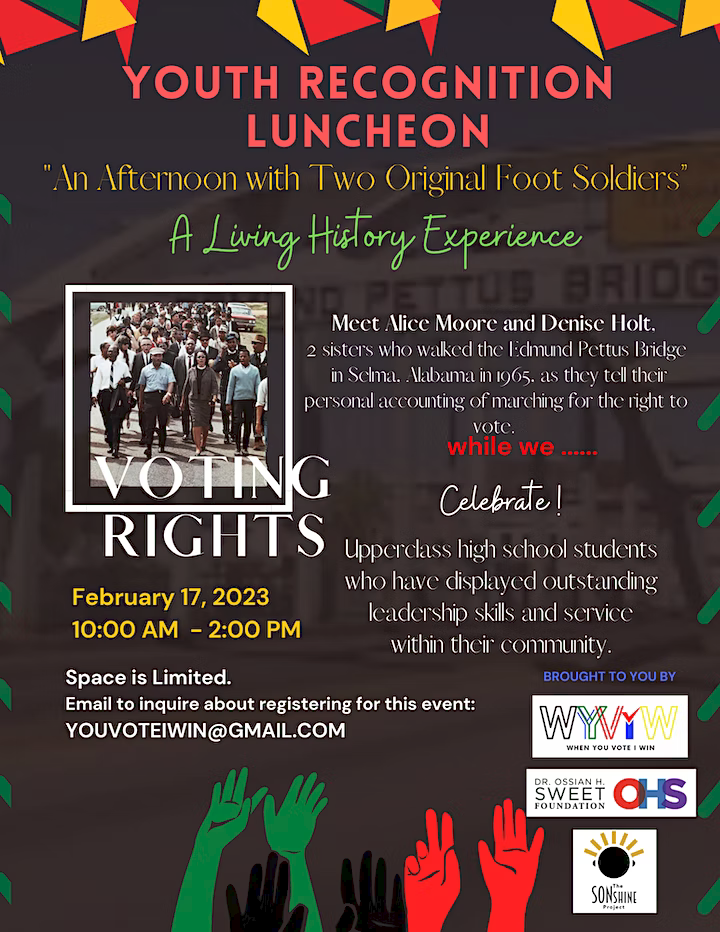 On Friday February 17th When You Vote – I Win is hosting an event with students from Detroit Public Schools and our two original foot soldiers. Meet Alice Moore and Denise Holt, 2 sisters who walked the Edmund Pettus Bridge in Selma, Alabama in 1965, as they tell their personal accounting of marching for the right to vote.
Celebrate upper-class high school students who have displayed outstanding leadership skills and service within their community!
"When You Vote I Win" is a NON PARTISAN voter turnout campaign. The campaign's premise is the belief that in order to change voting behavior we must change the voting conversation.
They believe that change will begin with the conversation between those who are participating in the process and those who are not, expressing to them when they refuse to participate, the negative impact it has on me; the negative impact that it has on my children and grandchildren, my community, my city, my state and this country.
When voting ends; it's not about the politicians winning. It is about you and about me. When You Vote I Win.
Re-engaging the marginalized and disenfranchised.
To register for this event, contact the organizers at [email protected]
Location: 1010 Antietam Avenue, Detroit 48207