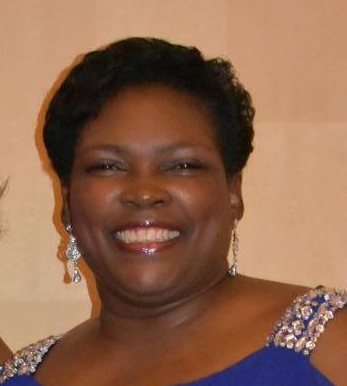 Kathi Harris has always had a passion for helping others. She graduated from Grand Valley State in 1984 with a BA degree in Criminal Justice. After an internship as a Pre-Sentence Investigator, Kathi had a decision to make: work in the court system or work at a GM job where she could put in her 40 hours and go home. While she took that job with GM, her passion for social justice remained strong. So when she joined the United Auto Workers (UAW), she eagerly engaged in advocating for workers' rights.
Kathi quickly learned that with UAW membership came a responsibility to become involved with her community. She was appointed to the Civil Rights Committee, a standing committee that was responsible for educating her sisters and brothers of their union rights as well as their constitutional rights. She joined local organizations that fought discrimination in the plant, working with the local NAACP Branch and the local chapter of A. Phillip Randolph Institute (APRI) a labor organization. The senior constituency group of the AFLCIO, APRI was founded on the belief that workers' rights and civil rights are inseparable. For Kathi, APRI's fight for political and social freedom and economic justice became her lifelong fight.
By the late nineties, Kathi was volunteering with so many groups, from churches, to sororities and fraternities, to labor and voting groups, that she decided to unite these efforts into a coalition. That's how Grand Rapids – People Reaching Out Actively Coming Together Increasing Voter Empowerment (PROACTIVE) was born.
Since 2004, Grand Rapids PROACTIVE has served the Grand Rapids community as the largest non-partisan election protection coalition that works collaboratively with the City of Grand Rapids and Kent County. Their primary target is low voter turnout precincts. The coalition now has over 20 partners.
Since 2020, when Kathi retired from GM, she has devoted herself full time to the Grand Rapids APRI Chapter, GR PROACTIVE, and joined VAAC in 2021 as a member of the leadership team.
Below, Kathi answers our Member Spotlight questions about her passions and motivations for her involvement in VAAC.
What do you see as the biggest problem facing society right now?
Complacency and getting people to work together for the common cause. If everyone understood the importance of the work and got involved, we wouldn't have so many issues. If everyone took the responsibility to vote seriously and came out to vote, many problems could be resolved at the ballot box.
How did your life lead you to an interest in voting access?
My work with the UAW, APRI and PROACTIVE led me to understand that voting is really our most important tool to make social change. That's why all my adult life, I've made it my mission to do whatever is necessary to improve access to voting and ensure everyone can participate in fair elections.
I got involved with VAAC through one of the founders, Carrie Hatcher-Kay. She became aware of the work we were doing in Grand Rapids and pulled me in. I always say that our VAAC meetings are my favorite hour of the week. I am so inspired by the life stories of others in VAAC, especially those who've experienced long periods of incarceration. They really pull on my heartstrings. I would expect them to be angry or bitter. But instead, they are driven by a passion to give back. If they can give so much of themselves, I know I can do my part. They push me forward.
How has your experience shaped your view of voting?
When I first started working on voting access, I was aware of election problems in places like Florida, or even Detroit. But I naively thought Grand Rapids didn't have those issues like long lines, people unfairly turned away at the polls, inaccessible polling places. None of that.
But when I personally started checking things out for myself, I found we had ALL of those problems, and more. One election day, I learned of a voter in a wheelchair who could not enter the building. I knew it was urgent, so I arranged for makeshift ramps to be put in place while the polls were still open.
I began to see how suburban polling places ran smoothly with short lines, but poorer neighborhoods were not well-served. And I realized establishing a relationship with the city clerk would be very necessary to change or fix the problems that we witnessed, in the future. So after the 2004 election, PROACTIVE submitted a report to the Mayor and the city commissioners, detailing the problems that we uncovered. At first there was resistance from the city officials. We have developed a working relationship with the city clerks that now they seek us out, asking for our advice and involving us in the planning of future elections. Over the years, I've learned that we have to be intentional about bringing change and not assume anything is working just because we don't see it not working.
What do people need to know about their voting rights?
That they can make a difference.  That your one vote makes a difference even if you don't think it does. That and knowing that you CAN vote and understanding why it's important.