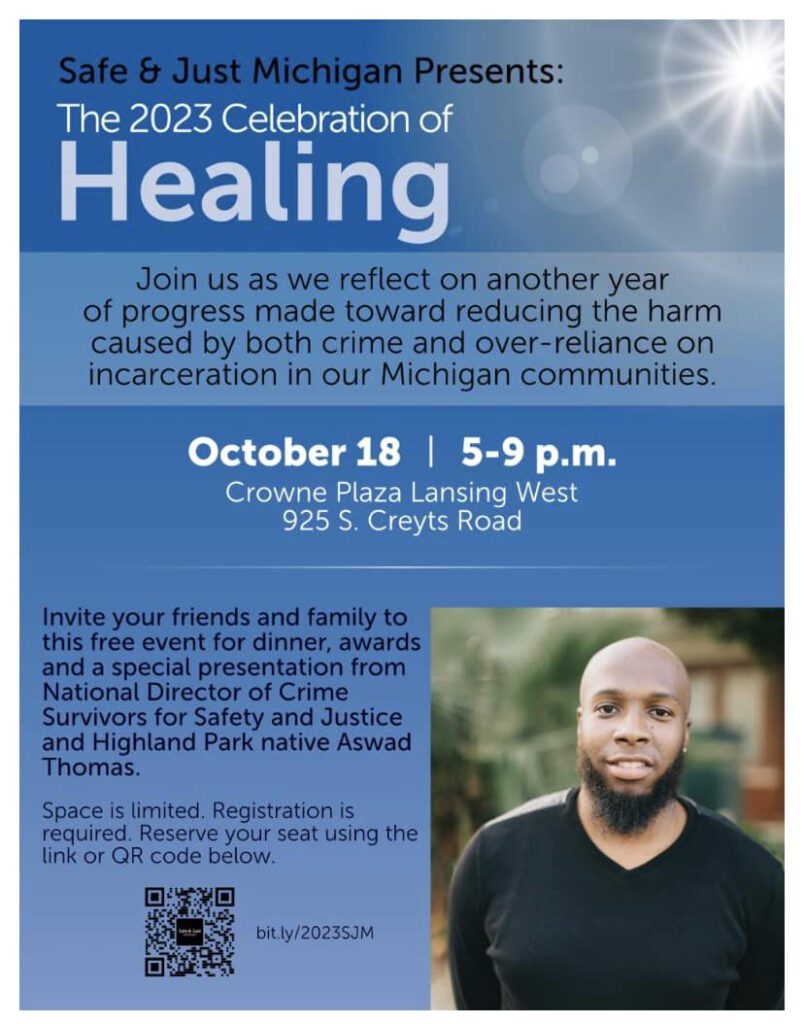 Safe & Just Michigan is excited to invite you to an evening of celebration, healing and fellowship from 5 to 9 p.m. on Wednesday, Oct. 18, 2023 at Crown Plaza Lansing West, 925 S. Creyts Rd., Lansing.
The Celebration of Healing features a presentation from Aswad Thomas, who grew up in Highland Park and who is now the national director of Crime Survivors for Safety and Justice and a vice president of the Alliance for Safety and Justice. Some of you may remember Thomas from his participation in the 2020 Michigan Day of Empathy, where he was one of the presenters. This year, he'll be back to share his message about the important role crime survivors can play in the effort to reform our justice system.

Register for this free event now by going HERE.

For those of you who may not be familiar with Thomas, we encourage you to watch an recorded interview we recently recorded with him. SJM Communications Specialist Zack Whaley recently spoke with him about his story and his mission, and you can watch the full discussion on YouTube.

We will also be handing out awards to the individuals and organizations who have dedicated themselves to bringing about positive change in criminal justice reform in Michigan, sharing a meal together and catching up with old and new friends. This event is free, but registration is required.

Oct. 3 promises to be an unforgettable evening, and we want you to be there to enjoy it with us. Make sure you reserve your spot today by going to bit.ly/2023SJM letting us know you'll be joining us for a Celebration of Healing.