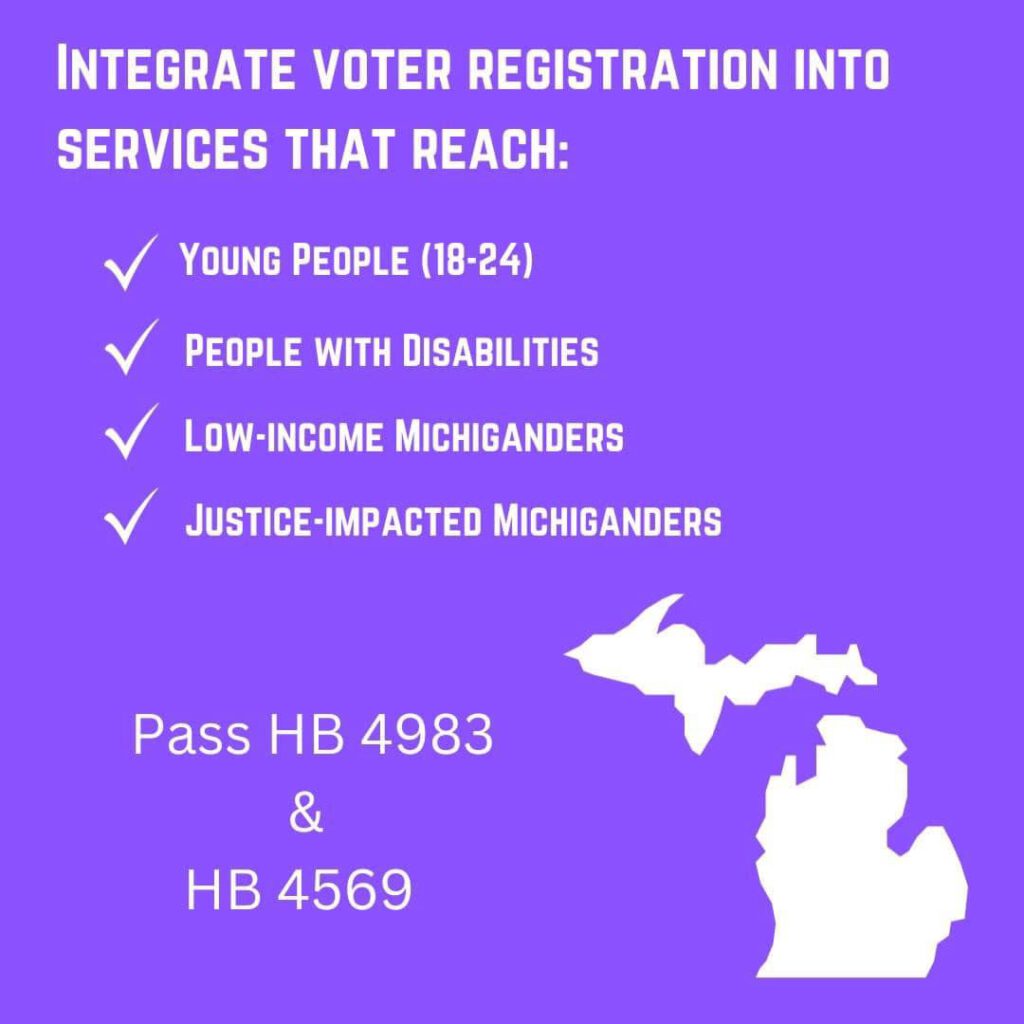 This action digest published below is produced by Promote the Vote Michigan.
National Voter Registration Day may be over, but PTV is still working hard to ensure that all eligible Michiganders have access to secure and convenient voter registration opportunities. To that end, we'd like to highlight two very important registration-related bills that are currently moving through the legislature: pre-registration for 16- and 17-year-olds (HB 4569) and secure AVR (HB 4983).
Pre-registration would allow eligible individuals ages 16 to 17.5 to "pre-register" to vote by submitting their voter registration information to election officials, while Secure AVR would strengthen and broaden the reach of Michigan's existing automatic voter registration system to ensure that even more eligible Michiganders would benefit. Our communities are at their strongest when all our voices are heard, and together these bills would make it easier for all Michiganders to make their voices heard as soon as they are eligible.
Pre-registration passed the House in June and is awaiting a hearing in the Senate Elections Committee. Secure AVR was introduced last week and is awaiting a hearing in the House Elections Committee.
We encourage you to help get the word out about these bills. We have social media carousels and sample social media posts on pre-registration here and secure AVR here. (A carousel is a social media post containing more than one image or video. To share either of these carousels, you will need to download every graphic in the folder and upload them together in one posting. If you have any difficulties or questions, please reach out to our Communications Manager, Angela Porter, at [email protected].)
We also have more detailed one-pagers here and here. And if you have questions or would like more details about either of these bills, please don't hesitate to contact PTV Policy Counsel Melanie Macey at [email protected].
ELECTION PROTECTION
VOTING RIGHTS IN THE LEGISLATURE
PTV Priorities
Secure AVR: Last week,House Elections Committee Chair, Representative Tserneglou, introduced HB 4983, a Secure AVR bill, which would make critical improvements to Michigan's automatic voter registration process. We anticipate that it will be heard in the House Elections Committee next week, and PTV plans to testify in support.
Election Official Intimidation: The House Elections Committee voted to send HBs 4129 and 4130 to the full house for a vote, recommending their passage. HB 4129 would protect election officials from threats intended to interfere with the performance of their election duties, and HB 4130 would provide for certain punishments if individuals engage in threatening or intimidating behavior against election officials. PTV submitted a card in support of this bill substitute at the hearing on 9/12.
Other Voting-Related Bills
PROP 2 IMPLEMENTATION – EARLY VOTING
Cities and townships must inform their county government of their early voting plans for next year by September 30. The county must then submit a countywide early voting plan to the state by October 31.
Early Voting in Ottawa County
Currently, all 23 cities and townships in Ottawa County have tentatively agreed to enter into an early voting agreement with the county. Through this agreement, the jurisdictions will share the costs of staffing and administering early voting at four early voting sites throughout the county during the mandatory nine-day early voting period next year. As of September 12, 2023, the local governing bodies in 21 of the 23 cities and townships in Ottawa County have already approved this countywide early voting plan ahead of the September 30 deadline.
The Ottawa County Board of Commissioners was expected to approve or deny funding for this early voting plan last week, after it received unanimous approval from the Board's finance committee. But, at the last minute, the far-right Commissioners removed this vote from the agenda in favor of a discussion, in hopes of making changes to the plan, such as requiring all cities and townships who are part of the agreement to use watermarked ballots and requiring that every early voting site be livestreamed. Seven local clerks gave public comments at the meeting, explaining the urgency of the Commission's vote on expenditures related to the plan.
County Boards of Commissioners do not have any legal authority over the manner in which early voting is conducted. PTV is aware of this situation and will continue to monitor it.
More information about the Ottawa County Board of Commissioners, generally, is available from The Detroit News.
FIGHTING ANTI-VOTER ACTIVITY
The Center for American Progress has published a new report with extensive recommendations for social media companies and artificial intelligence developers to help safeguard elections throughout the world in 2024 and beyond.
UPCOMING EVENTS