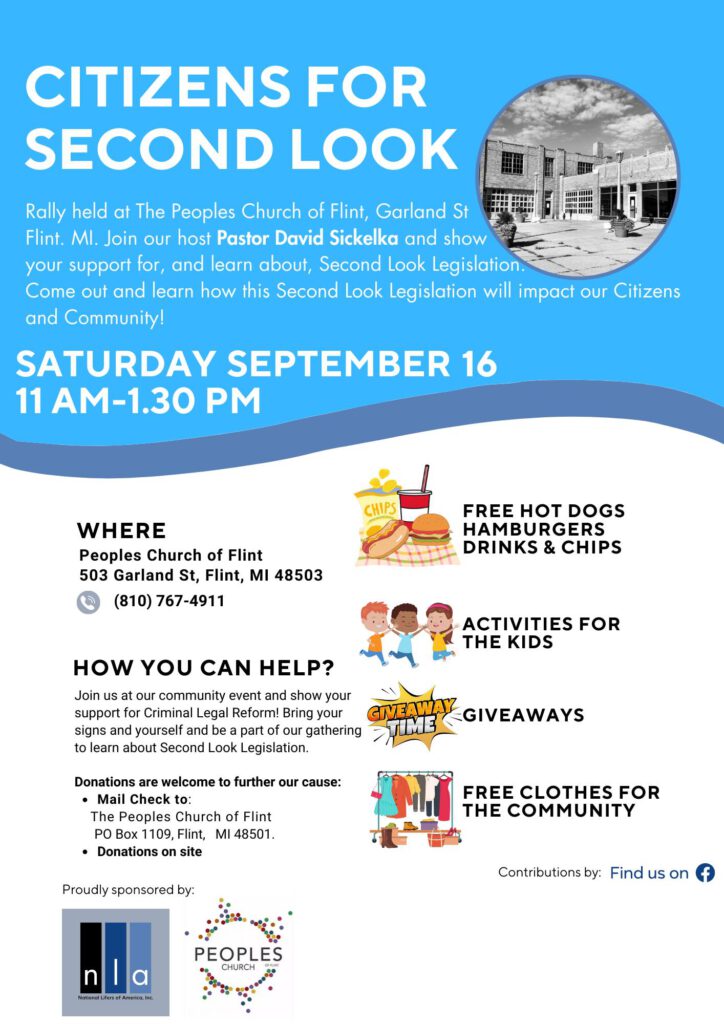 Do you want to learn more about #SecondLookLegislation and how it can benefit our society? Do you want to hear from inspiring speakers who have lived experience with the criminal justice system? Do you want to enjoy free food, fun activities, and giveaways?
If you answered yes to any of these questions, then you should join us for the Citizens for Second Look Rally
at the Peoples Church of Flint
on Saturday, September 16th, 2023
This event is hosted by National Lifers of America, Inc., a nonprofit organization that advocates for the rights and dignity of people serving life sentences.
This event will feature an amazing lineup of speakers, including State Representative Amos O'Neal, Johnell Allen Leon EL-Alamin Lorenzo Harrell, Jack Wagner, and Gregory Wines. Alexandra Bailey will be our guest Emcee for the event. We have some musical entertainment as well!
You will also have the opportunity to learn more about Second Look legislation, which would allow people who have served at least 15 years of their sentence to petition for a review of their case and a possible sentence reduction. This legislation would promote fairness, justice, and rehabilitation for people who have demonstrated positive change and remorse.
This event is FREE and open to the public, but donations are welcome and appreciated. All proceeds will go towards supporting the work of National Lifers of America, Inc. and their mission to end life without parole sentences.
Don't miss this chance to be part of a movement for criminal legal reform and community empowerment. Come to the Peoples Church of Flint on September 16th and bring your friends and family. Can't wait to see you there!