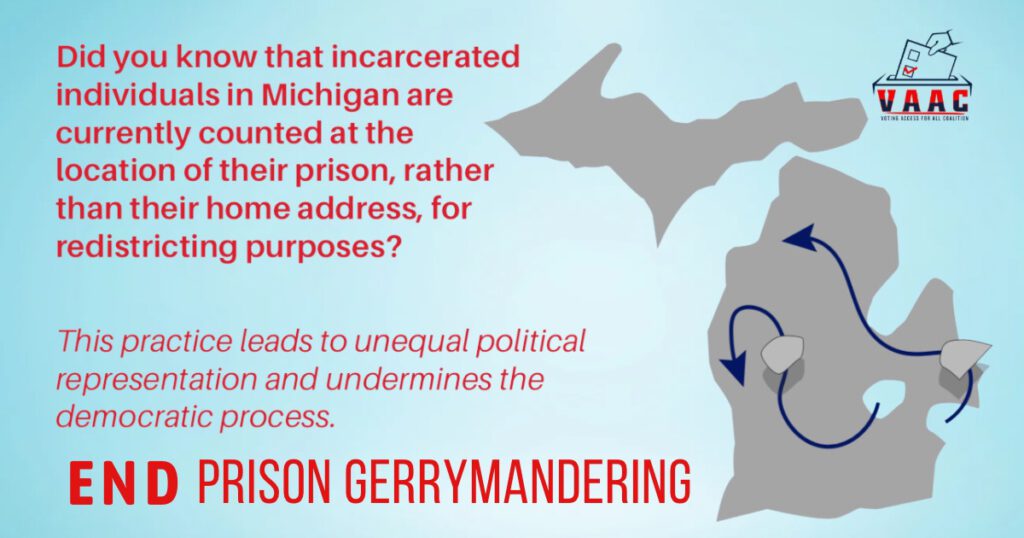 Voting Access For All Coalition is thrilled to share that SB 0033 will soon receive a hearing before the Committee on Elections & Ethics.
Michigan currently counts incarcerated people as residents of the places where prisons are located rather than in the communities where they would otherwise reside, where their families live, and where they overwhelmingly return upon release from incarceration.
Because of prison gerrymandering, our communities are not only robbed of fair representation, but of access to resources that they could benefit from. Proper representation in the legislature ensures fair allocation of funding for things that directly impact the quality of life in a community and supports things like hospitals, fire departments, schools, roads, and resources for job seekers. The resources that are needed are stripped away and communities find themselves in a continual struggle to survive. That's the destructive impact of prison gerrymandering.
This bill would end that practice by requiring that the pre-incarceration address of incarcerated individuals in Michigan be reported when providing information for voting district population counts.
We are circulating a sign-on letter and are asking for your support… Please sign-on and share widely with your community.
https://docs.google.com/forms/d/1E4wF7zwAG2XheuG5X6XFoxwTSlztM6JhmE9q6sJZsx8/edit?ts=6478dd0a