Article from Concentrate Media:
What if you want to vote but you're not sure how to get registered, or even if you're eligible to vote? What if you want to get more involved in local politics beyond just filling out a ballot? Those concerns and more will be highlighted at a series of Civic Duty Education Nights on April 14, 19, and 25 2023 at locations around the greater Ypsilanti area. 

The series was made possible through a grant by the national nonprofit Black Voters Matter. It is sponsored by local nonprofit Survivors Speak and partner organizations that include the League of Women Voters East, Silent Cry, Ypsi, Can I Share?, the Washtenaw County Health Department, and the Voting Access for All Coalition (VAAC). 

Survivors Speak founder Trische' Duckworth says that telling people to vote or even helping them get registered is a good first step, but people need someone to "break down what the process looks like."

The education night series is in the same spirit as Survivors Speak's Pull Up Turn Up events, which took place in autumn 2022 and focused on civic rights and responsibilities. Duckworth says the idea behind both event series is to go "into the heart of the community" to remove barriers for people who want this kind of information.

During the Pull Up Turn Up events, volunteers provided resources about voting rights and distributed a survey asking community members for their vision for the community and their thoughts and feelings on racial justice.

"We asked them if their legislators have ever reached out to them or if they reached out to their legislators. Most answers, you can probably guess, were no," Duckworth says. "It's not really fair that our legislators continue to make decisions for 'the least of these,' as the Bible says — the disenfranchised, those who are struggling and hurting."

Duckworth says that when visions are crafted for a community, the voices of the alienated and disenfranchised are rarely counted.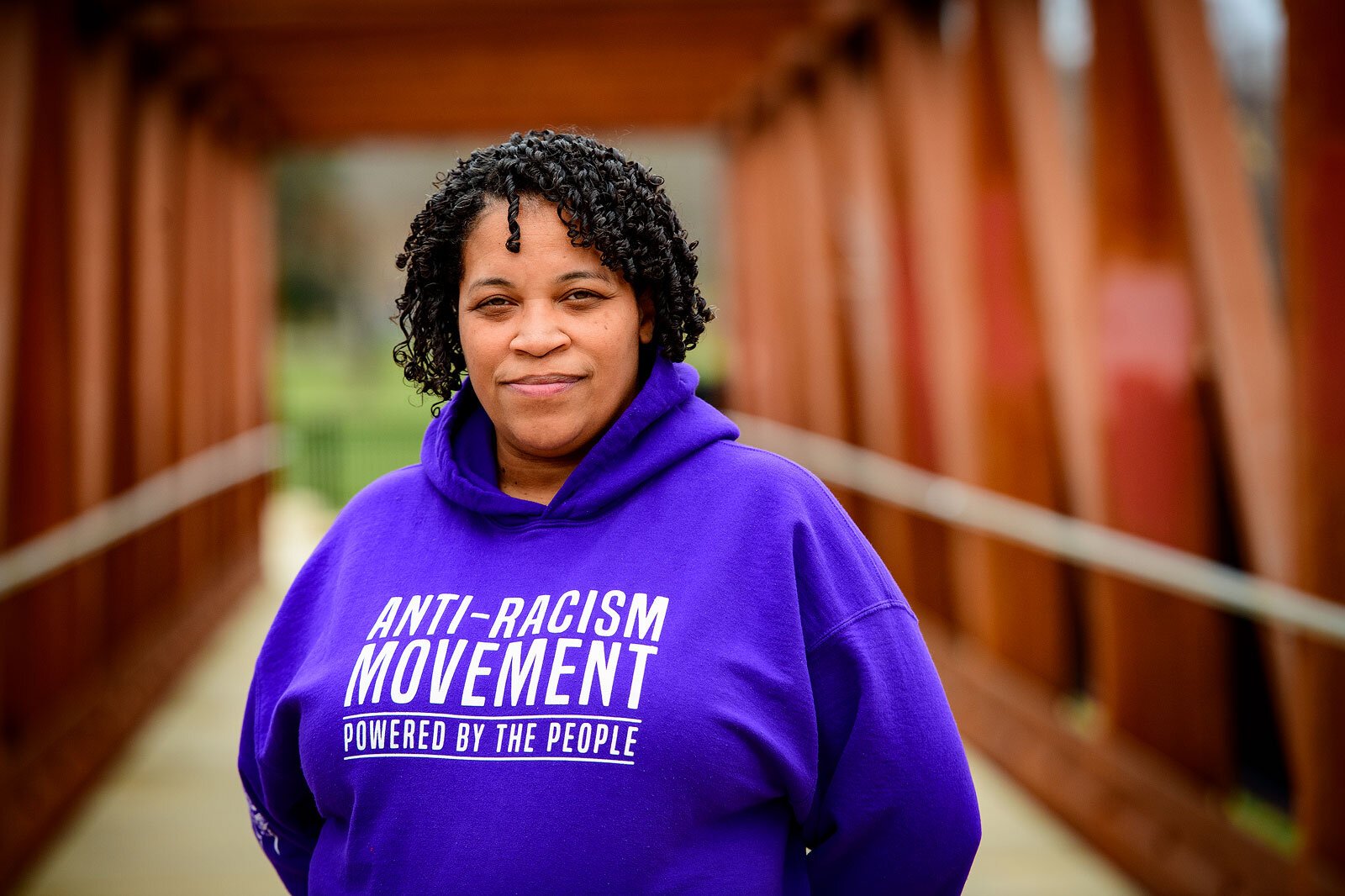 Survivors Speak founder Trische' Duckworth.
"We can't sit around and wait for legislators to engage us. We have to engage them. But some people don't understand what that looks like," she says.

Gail Summerhill, founder of partner organization Ypsi, Can I Share?, says that telling people to vote isn't enough.

"Registering someone to vote without giving them information about the process is like a parent dropping their kindergartener off for school for their first day and leaving them at the front door of the school," she says. 

During the Civic Duty Education Nights, partner organizations will provide presentations and tables where visitors can get more information about voting and other topics. Ypsi, Can I Share?, for instance, will bring a board that allows visitors to look at a map and figure out what jurisdiction they're in and who their elected officials are.

"That's the first thing a person needs to understand," Summerhill says, noting that people from the city of Ypsilanti, as well as Ypsilanti Township, Superior Township, and Pittsfield Township all commonly say they're "from Ypsilanti."

Shawanna Vaughn, founder of Silent Cry, will talk to participants about the fact that voters can write and propose their own pieces of legislation. Vaughn proposed a bill called PTPD Shawanna W76337 to bring attention to prison-induced psychological damage, known as post-traumatic prison disorder, a subset of post-traumatic stress disorder.

"We can get decisions put on the ballot if we get enough signatures," Duckworth says. "There are so many things we can do ourselves outside of waiting for our legislators to vote on things."

Angela Davenport, director of communications for VAAC, says her organization's emphasis is on making sure that formerly-incarcerated people know they are eligible to vote. VAAC will staff a booth at the series of events to debunk the common misconception that felons can't vote. They'll also talk about how voters can make a difference, especially at the local level, she says.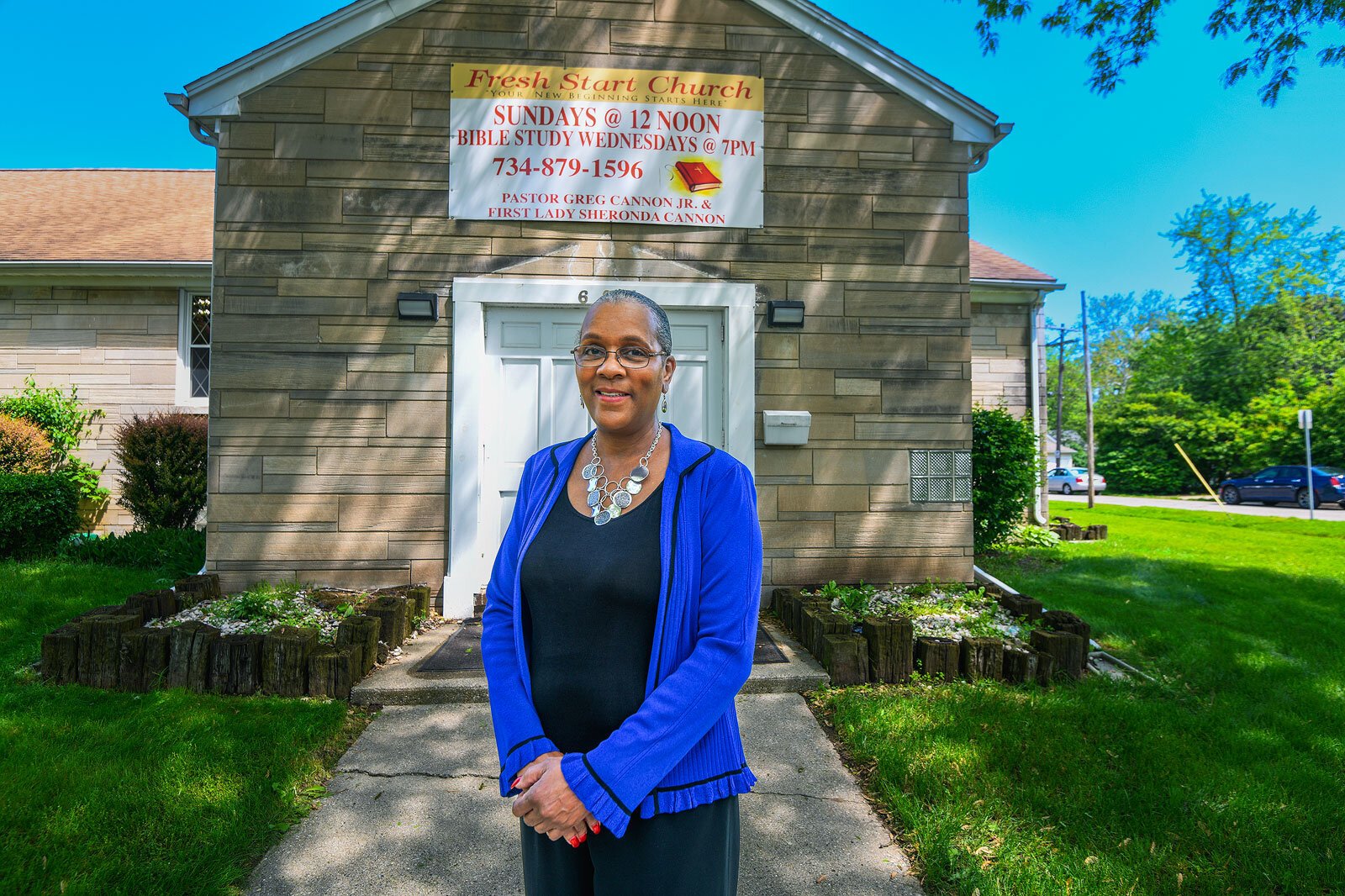 Ypsi, Can I Share founder Gail Summerhill.
Davenport says VAAC aims to counter misinformation about voting and then have the attendees go out and "spread accurate information."

Duckworth says she intentionally focused not just on rights but on "civic duty" because she wants area residents to understand that "having a seat at the table is non-negotiable."

"Each of us has a debt to pay, a duty to ensure our communities are safe and everybody's needs are being met," Duckworth says. "There's no way to do that without consistently showing up in these spaces where decisions are being made. Nobody is coming to save us. We have to save ourselves."

Washtenaw County Health Department staff will offer COVID-19 test kits, vaccines, and a short presentation on vaccination at the event. Having the health department show up at a voting rights event might seem unrelated, but Duckworth says it's highly relevant.

"A lot of decisions are made for low-income communities by the health department," she says. 

The event will also offer a video game truck, face-painting, a video game system giveaway, and free food. The intent of these perks is not just to draw people in but to give something back to the low-income communities where the events will take place.

"We want it to be a big celebration with all the bells and whistles," Duckworth says. "It's a sign of disrespect to pull in and ask for a community's opinions without showering love on the community out of appreciation for them sharing this information with us."

All three Civic Duty Education Nights take place from 5-8 p.m. The first will be held at Parkridge Community Center, 591 Armstrong Dr. in Ypsilanti, on April 14. The second takes place April 19 at the headquarters of nonprofit Men Like Us, 3011 E. Michigan Ave. in Ypsilanti Township. The final event in the series takes place at Christian Love Fellowship Ministries International, 1601 Stamford Rd. in Superior Township. 

More information about the series is available through the Survivors Speak Facebook page.

Sarah Rigg is a freelance writer and editor in Ypsilanti Township and the project manager of On the Ground Ypsilanti. She joined Concentrate as a news writer in early 2017 and is an occasional contributor to other Issue Media Group publications. You may reach her at [email protected].