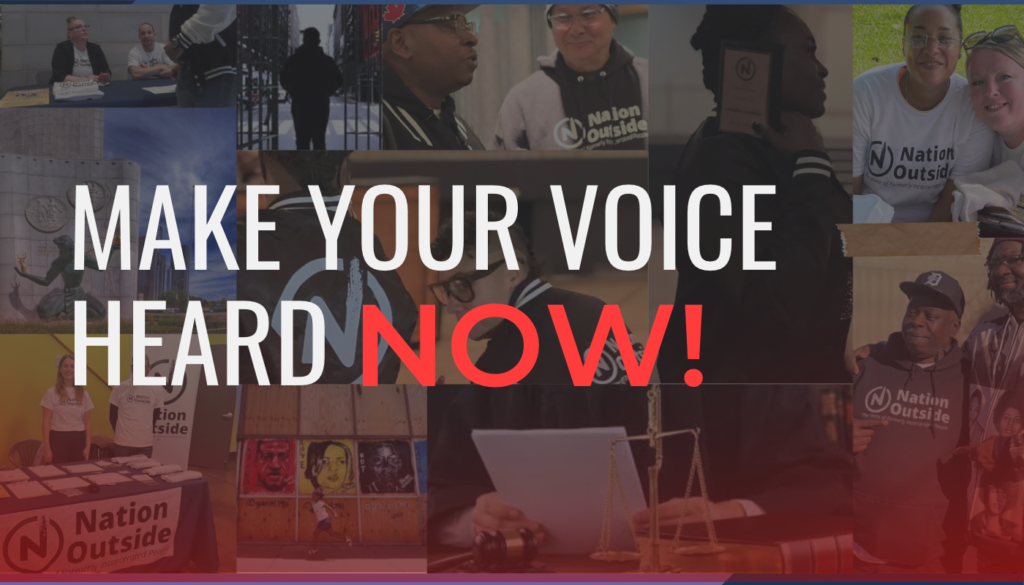 Join NationOutside in advocating for a peer-led approach to reentry support! Your input is needed before May 8th, 2023 (Instructions provided HERE) It takes 30 seconds to complete.
We applaud the Biden-Harris administration for pushing to expand access to healthcare in the Medicaid program to those currently incarcerated people who are transitioning back into our communities. As a result, the U.S. the Department of Health and Human Services (HHS), through the Centers for Medicare & Medicaid Services (CMS), announced a new opportunity for states to help increase care for individuals who are incarcerated in the period immediately prior to their release to help them succeed and thrive during reentry. (CMS 4/17/23 Letter)
Likewise, we support the efforts of the Michigan Department of Health and Human Services (MDHHS) in expanding Targeted Case Management (TCM) (2307-TCM) as a demonstration project to people who are and who have been incarcerated.
However, the proposed policy changes may unintentionally fall short in adequately addressing the needs of a significant number of people. Moreover, the proposed policy does not follow some of the clear encouragement and guidance CMS offers to states who propose demonstration projects. The policy limits support to those with a medical diagnosis and adds unnecessary restrictions on in-reach. We must demand that reentry support is provided to all individuals transitioning from incarceration and that peer-led models, like Nation Outside's Trauma Informed Peer Led Reentry (TIPLR) model, are included as a best practice.
​Let's urge the Michigan Department of Health and Human Services to expand TCM (2307-TCM) to all justice-impacted individuals and remove restrictions on qualified case managers that exclude those with lived experience. Together, we can create a more equitable and effective reentry system. Please email your Public comment before Monday, May 8, 2023 to Matt Hambleton at: [email protected]
An example of a comment you can submit is:  "I oppose the proposed expanded Target Case Management policy (2307 – TCM) because it needs to be modified to include a mechanism for community based providers."
For more information on the changes and their impact, please visit this page.