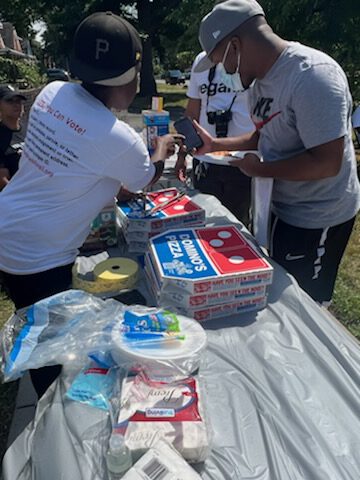 We had a blast on Sunday July 24th in Detroit at our PIZZA & Pledging PARTY for the community! Organizers of the event were: S&D PJ Housing, VAAC – Voting Access for All, The Proactive Project, Grand Rapids Chapter of A. Philip Randolph Institute.
It's all thanks to Pizza to the Polls & Domino's Pizza for providing the
& extra thanks to all our volunteers for helping all the guests to plan their VOTE!
A special shout out and thank you to E. B. Jordan who coordinated this very successful VAAC Pizza and Pledging event.  Thanks also to Pettes LLC for hosting the event at their business.
R U Vote ready? What's your plan for the Aug 2nd Michigan Primary?
Being Vote Plan Ready means you know ALL of your options for voting. Take some time to Make a Pledge & a Plan to Vote!
Visit WWW.VOTINGACCESSFORALL.ORG/VOTE for more details.