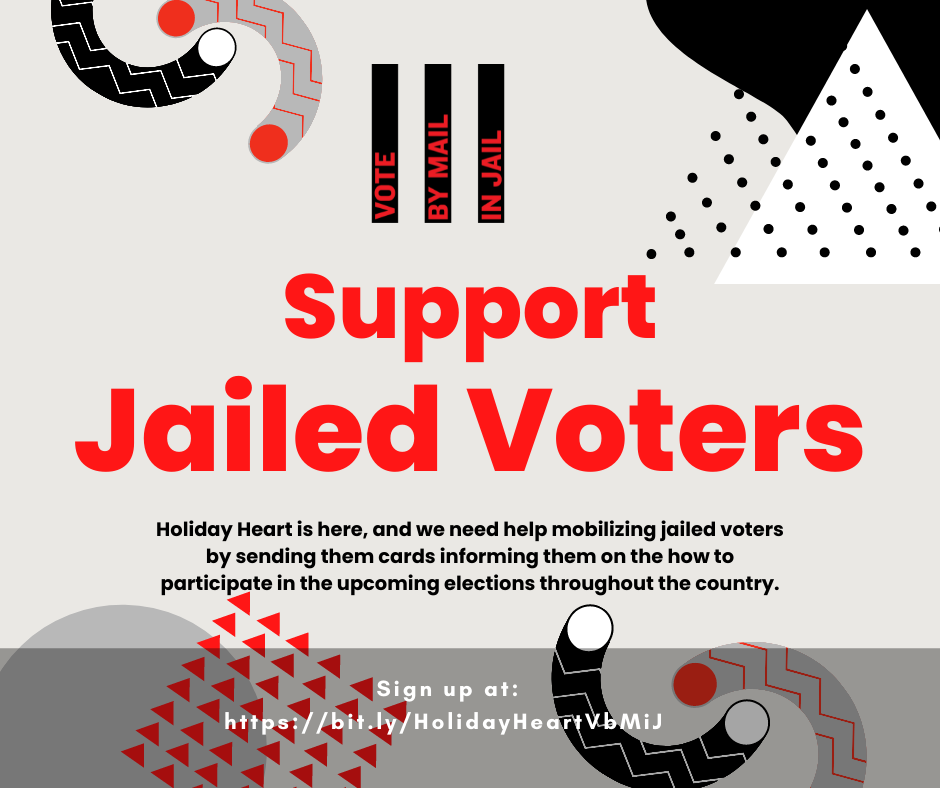 Sign up to send election reminders to justice impacted folks!
Vote By Mail in Jail is seeking volunteers to send postcards to incarcerated folks so they can remind their families and friends that they can vote and that their vote matters. Post cards will be provided that include important dates and requirements for voting – making it easy for incarcerated folks to share with their contacts who are eligible to vote.
Use this link to sign up to volunteer and see the training schedule.
Some program details are:
– people sign up for the program now and in July
– when you sign up, you say how many people you can write to
– Vote By Mail in Jail will send a packet, including the cards which provide voting messaging, and the name and jail mailing address of those to write to
– July 25 is a writers workshop at 7 pm, if people need help writing to those people in jail
– All letters should be mailed by August 29, to get to people in time for the November election
From Vote By Mail In Jail: Voting is a tool, a rehabilitative tool. As incarcerated people feel more connected to their communities, they're less likely to engage in crime. We know that citizens who're are civically engaged are less likely to recidivate. Understanding this we see voting as a potential tool towards rehabilitation for incarcerated individuals, especially those who are eligible to vote while incarcerated. In an effort to accomplish this, we intend to increase the number of incarcerated citizens who participate in their elections by partnering with jail and detention facilities who house eligible voters in their custody. In service of our facility partners we'll host Inmate Voter Information Sessions and Registration Sessions. Along with this we provide voters with registration and absentee ballot request applications, sample templates to guide voters through the completion of those applications, postage when necessary for mailing to their local clerk's office, nonpartisan voter guides to know what's on the ballot and even reminder postcards mailed from our volunteers directly to eligible incarcerated voters.