Here's a guide to Hash Bash 2022- Thousands of people are expected to gather on the University of Michigan's Diag to show their support for reforming marijuana laws.
Held annually since 1972, the 50th-anniversary event will highlight the cannabis industry, marijuana legislation and cannabis activism.
Hash Bash organizers told MLive that this year's speakers include advocate John Sinclair, Washtenaw County Prosecutor Eli Savit, U.S. Rep. Debbie Dingell, Rep. Yousef Rabhi (D-Ann Arbor) and other local activists. The speakers list has not been finalized.
This will be the first Hash Bash held in-person since the start of the COVID-19 pandemic.
Saturday, April 2
Monroe Street Fair: 11 a.m.- 6 p.m.
The annual shopping event will run concurrently with the 2022 Hash Bash. In 2022, it will celebrate its 20th anniversary.
Ann Arbor Hash Bash: Noon
The free event will be held at the University of Michigan Diag.
Hash Bash Afterparty with MacPodz: 7 p.m.
Continue to celebrate with an afterparty at the Blind Pig. The psychedelic funk event, at 208 S. First St., costs $10.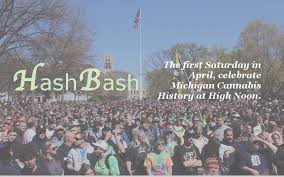 For details and to check out the schedule of events for Hash Bash 2022, visit https://www.hash-bash.com