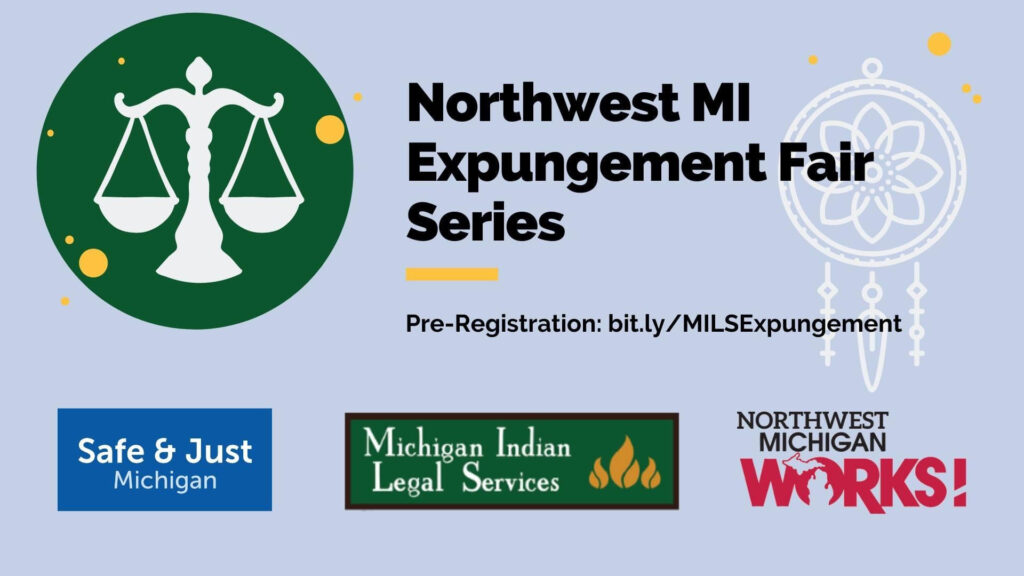 In April 2021, Michigan enacted Clean Slate legislation to help those with criminal records seek expungement through the legal system. As these laws take effect, Michigan Indian Legal Services (MILS) is hosting a series of events to assist northwest Michiganders in the expungement process.

PRE-REGISTRATION REQUIRED: bit.ly/MILSExpungement.

Do you live in northwest MI and have a criminal record?You may be eligible to have Michigan Indian Legal Services provide legal representation in expungement proceedings. Find out at: bit.ly/MILSExpungement.Is my conviction eligible for expungement?
Given the complexity of the new Clean Slate laws, you may not be able to determine eligibility on your own. We encourage you to get screened by an attorney at: bit.ly/MILSExpungement.
Are tribal or MI juvenile delinquency records eligible? Yes, but exceptions exist. Have an attorney screen your case: bit.ly/MILSExpungement.

Expungement Fair Dates and Locations:

Saturday, January 29, 10-2PM
Manistee Northwest Michigan Works!
400 River St, Manistee, MI 49660
Saturday, February 19, 10-2PM
Odawa Hotel Conference Room
1444 US-131, Petoskey, MI 49770
Saturday, March 26, 9-2PM
Michigan Indian Legal Services
814 S Garfield Ave #A, Traverse City, MI 49686
Saturday, April 23, 10-2PM
First Congregational Church
200 E Harris St, Cadillac, MI 49601