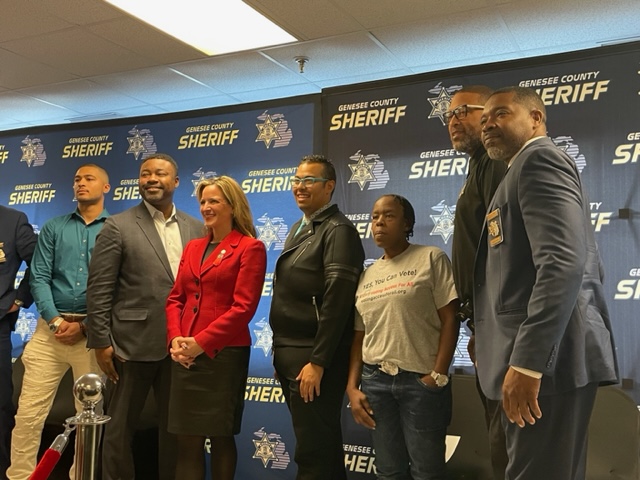 View the full video of the event at this link.
From mLive.com article by Maddy Warren
FLINT, MI – To celebrate National Voter Registration Day, elected officials from Genesee County and across the state gathered to advocate for voting, with an emphasis on formerly incarcerated citizens and members of historically marginalized communities.
National Voter Registration has been recognized as a national holiday since 2012. This year, it was observed on Tuesday, Sept. 19.
Michigan Secretary of State Jocelyn Benson was among the speakers at a press conference held Tuesday at the Genesee County Jail, discussing the importance of voting and the process to register.
Benson said the Secretary of State's office launched a partnership with the Michigan Department of Corrections in 2020 to ensure newly paroled Michiganders would receive a state ID or driver's license at the time of their release.
"You need an ID to apply for a job, you need an ID to secure housing, you need an ID to enroll in education and training programs," she said. "You need an ID to truly be a returning citizen and be embraced by the community that you're returning to."
Since it launched, Benson said the program has helped more than 15,000 returning citizens secure their state ID or driver's license. Those individuals are also eligible to update their voter registration and vote.
The partnership is expanding at the local level to county sheriff departments, she said.
To help incarcerated individuals register to vote, Benson said the mobile Secretary of State office visits jails to meet with people one-on-one, ensuring they have the necessary documentation to obtain an ID or driver's license, including a photo and any driving or vision exams.
The program also works to educated individuals about voter suppression, intimidation tactics and misinformation surrounding voting, she said.
"We're seeing more and more of those tactics aimed at historically marginalized communities and disenfranchised communities," Benson said. "We have to partner with everyone to ensure the truth gets to every voter in this state and every citizen in the state."
Other speakers included Genesee County Sheriff Chris Swanson, Genesee County Clerk/Register of Deeds Domonique Clemons and Wayne County Sheriff Deputy David Felton.
The Genesee County Clerk's office works to make voting possible for everyone in Genesee County, Clemons said, whether their ballot is cast in person early or on election day or by absentee.
To make sure registering to vote is not a financial burden, Clemons said the county is offering waivers to bypass the $25 fee to purchase a copy of a birth certificate, a document used to obtain a state ID or driver's license.
"We are ensuring that that right to vote is protected, that our elections are safe and secure," he said.
Deon Davidson, Michigan regional organizer of Black Voters Matter, Moses Bingham, director of special projects & initiatives for Community Foundation of Greater Flint, and Percy Glover, co-executive director of community engagement for Genesee County Sheriff's Office/FAIR Voting Alliance also gave remarks during the press conference.
For more information or to register to vote in Michigan, visit michigan.gov/vote or call the voter registration hotline at 866-687-8683.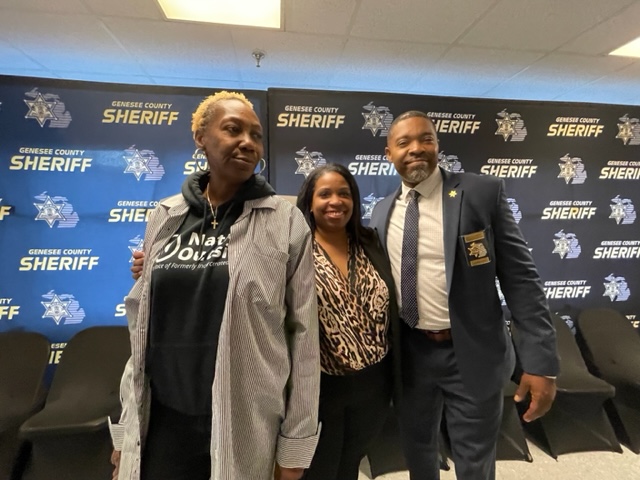 VAAC Members Lawanda Hollister, Angela Davenport, and Percy Glover at the event.