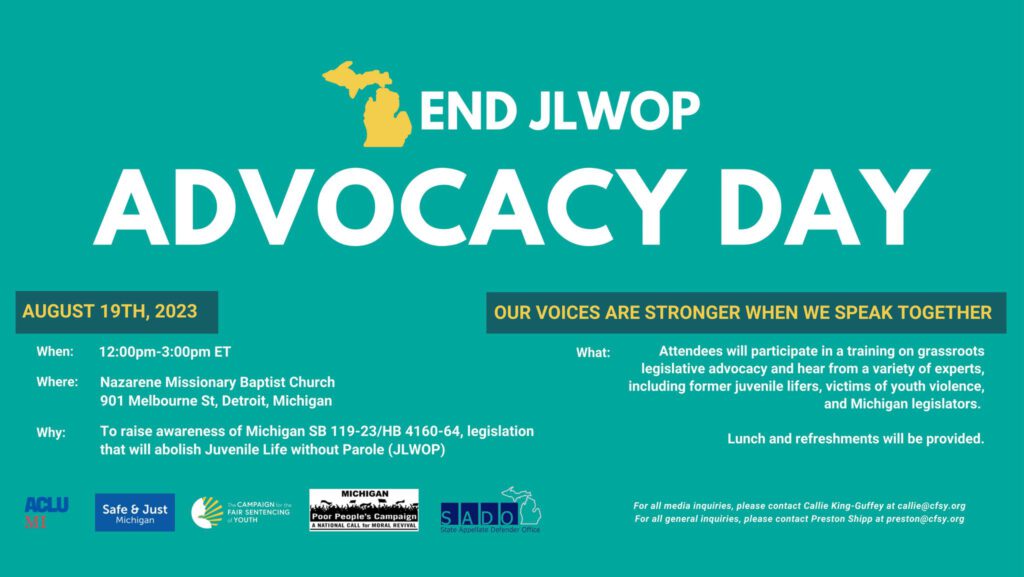 Join our friends at Campaign for the Fair Sentencing of Youth and Safe & Just Michigan for Detroit Advocacy Day to End JLWOP (Juvenile Life without Parole)
SATURDAY, AUGUST 19, 2023 9 AM – 12 PM PDT
Nazarene Missionary Baptist Church, 901 Melbourne, Detroit, Michigan
Michigan holds the highest number of people serving Juvenile Life without Parole sentences in the world. It's time to make a change.
Come be a part of our advocacy day to put an end to JLWOP this year. Learn about grassroots legislative advocacy, listen to experts including former juvenile lifers, youth violence victims, and Michigan legislators.
Lunch and refreshments provided. For media inquiries, contact Callie King-Guffey at [email protected]
Let's work together for justice and change.
For general inquiries, reach out to Preston Shipp at [email protected].