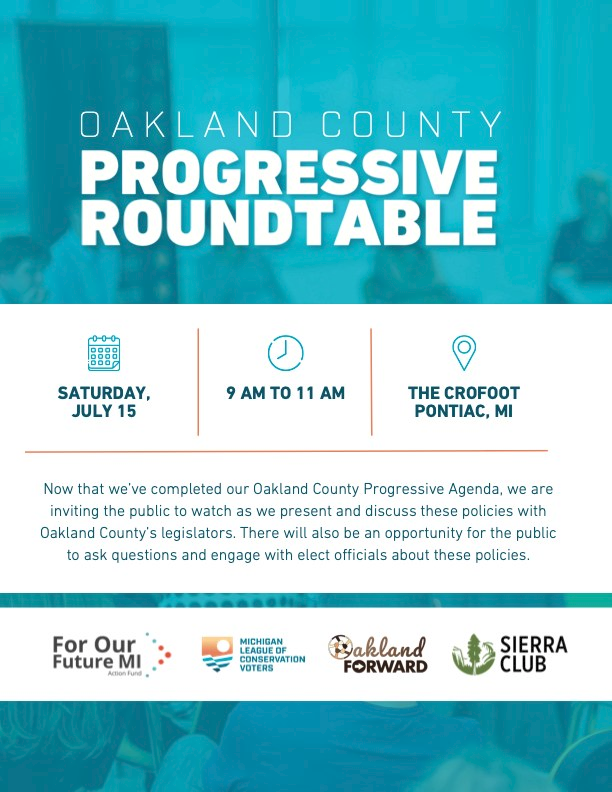 You are invited to the latest and most important part of the event series:
The Oakland County Progressive Round Table on Saturday, July 15 from 9:00AM to 11:00AM at the Crofoot 1 S Saginaw St, Pontiac, MI 48342
The organizing committee (Charlie Cavell 18th District Oakland County Commissioner, Sierra Club Michigan Chapter, For Our Future MI, Michigan League of Conservation Voters, Oakland Forward, and more), have listened to everyone who has been participating, taken everything from the last two sessions, and compiled it into a legislative agenda complete with progressive policies and aspirational goals. On July 15, participants will have a chance to share this progressive vision, as well as their organization's positions, directly with legislators and county commissioners who will join in for a roundtable discussion in Pontiac.

Your voice is important in this process. We want to show the strength of the progressive movement in front of our legislators, and to speak about the issues we care about to achieve the change we need.
If you are interested in participating, please find the registration link here with more information:
https://forms.gle/pNaDLoMBqfJwWu6a6

More information will be sent in the next week or so to registered attendees.
A light breakfast will be provided. But, unlike the other sessions, it will not go until lunch.