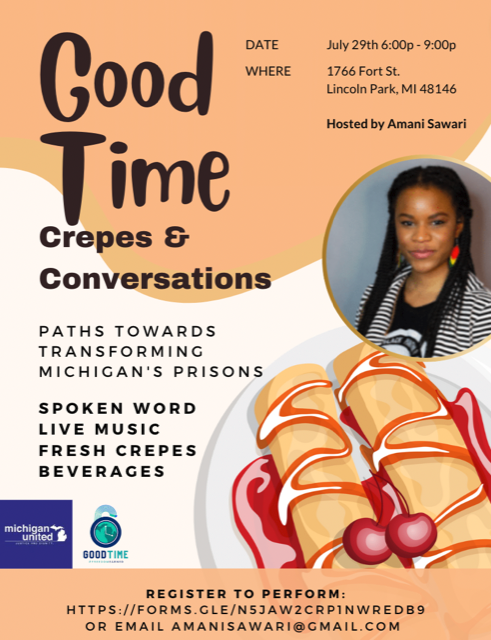 Now is the time to aggressively push collective community actions for Good Time Legislation.
You are invited to attend Good Time Crepes and Conversations: Paths Towards Transforming Michigan's Prisons. This event, hosted by Amani Sawari, Michigan United and Good Time will include spoken word, live music, fresh crepes and beverages. (Paid tickets include food.) 
Date/Time: July 29th 6-9 pm
Location: 1766 Fort St. Lincoln Park, MI 48146
We're also opening the stage for attendees to share art, music or poetry, PLEASE sign up to share at https://forms.gle/n5Jaw2CRP1NwrEDb9. In addition to hosting discussion and collecting testimonials from attendees (written and video) Amani will be previewing an updated strategy to get Good Time passed in Michigan BEFORE we potentially lose our democratic majority in the Fall. 
Want to learn more about more work on the good time campaign, https://sawarimi.org/archives/category/michigans-good-time-campaign Fliers to share at https://sawarimi.org/events