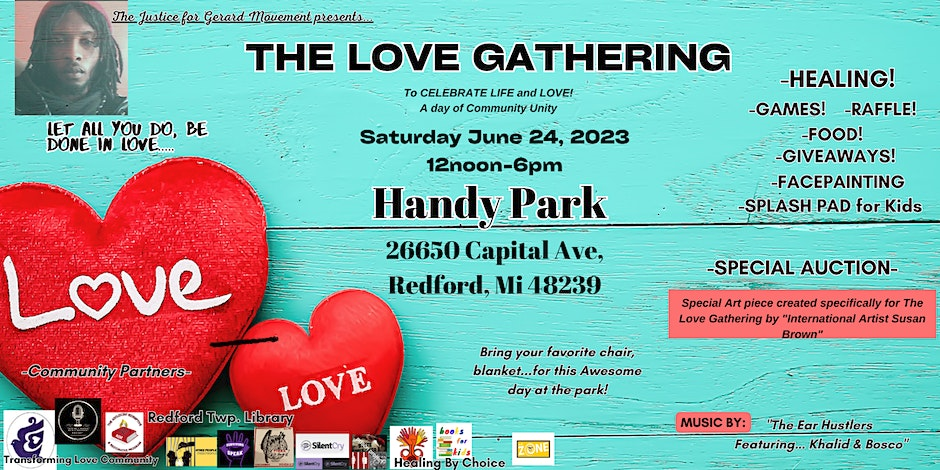 The Justice for Gerard Movement presents…
The Love Gathering
Come join us for a day of love, laughter, and connection at The Love Gathering! This event is all about bringing people together to celebrate love in all its forms.
June 24, 2023….
12noon-6pm
Where: HANDY PARK
26650 Capital Ave
Redford Twp. Mi. 48239
A Day to Celebrate Life!
A Day for Community Unity…
A Day for Fun! Food! Music! ..and HEALING!!!!
This is a Family Friendly event…So bring the children, your favorite chair, blanket and enjoy the day with us!
"LET ALL YOU DO…BE DONE IN LOVE!"
."The Love Gathering"… a day of family fun, food, self care as well as a celebration of life…of Gerard Haycraft.
Gerard was wrongly convicted for a crime he didn't do… and passed away a year after being released from prison. The Justice for Gerard Movement was created to educate the community about Wrongful Conviction.
This FREE community event will allow the public to enjoy some family fun, food, self-care, and fellowship
The Love Gathering is about bringing the community, justice advocates and families together for a day of Healing and Love.
It's about honoring life, promoting self-care, fun, music, food and awareness.
This family friendly event… there will include activities and games for children and adults… as well as alternative healing modalities like chair massage.
The mission of The Justice for Gerard Movement is to bring awareness to the wrongful conviction of Gerard and many others who have also faced injustice. The organization aims to educate, inspire, and organize communities to help disrupt unjust systems, policies, and patterns of the criminal legal system that lead to wrongful convictions.
It is estimated that at least 10,000 people or more are wrongfully convicted annually. Causes of a miscarriage of justice include (but are not limited to) misidentification of the perpetrator by witnesses and/or victims, the inability of those accused to afford legal services, judicial misconduct, destruction of evidence, false confessions, etc.
With so much uncertainty, hurt and harm going on in so many countries… The Love Gathering is an opportunity to create Unity and focus on LOVE!
So, what are you waiting for? Grab your friends, family, or significant other and come join us at The Love Gathering. We can't wait to see you there!
This is a FREE Family Event!
However, PLEASE RSVP!
If you would like to donate to The LOVE Gathering click on the link below: