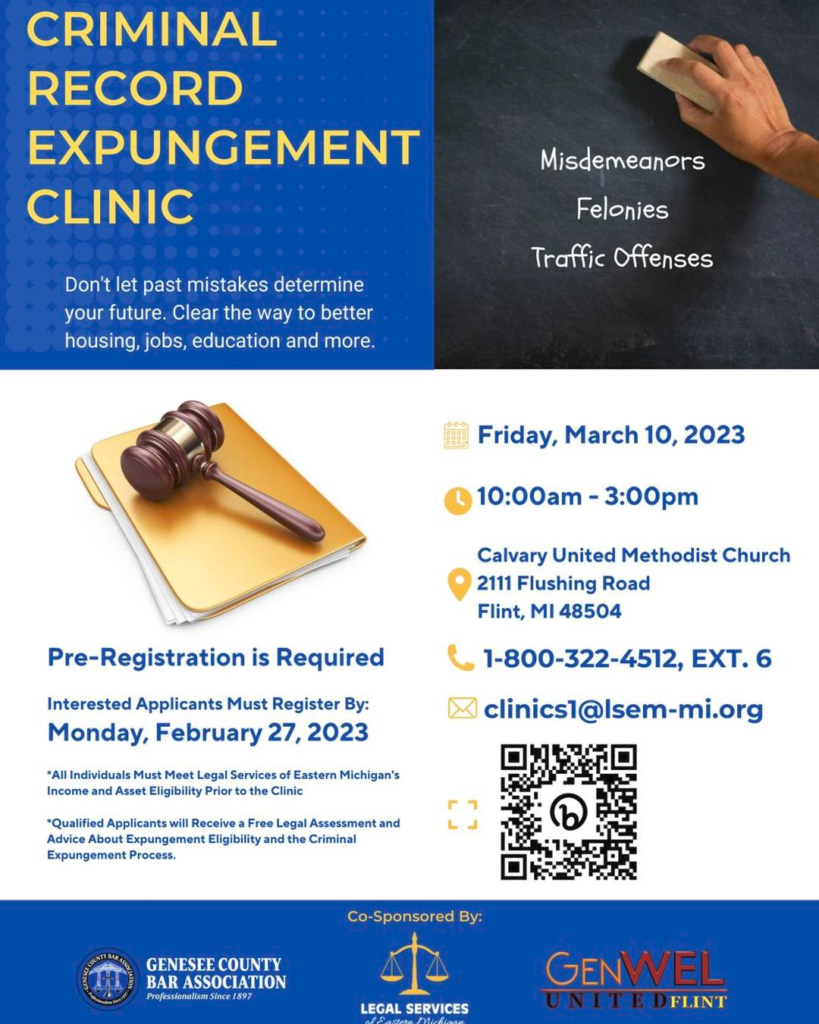 From a story by Sophia Lada of the Flint Beat:
'A fresh start': Criminal record expungement clinic this Friday in Flint
A criminal record expungement clinic is taking place 10 a.m. to 3 p.m. Friday, March 10, 2023 at the Calvary United Methodist Church in Flint.
"The beginning of the year is usually the time frame that everybody wants to do a fresh start," said Rawlan Lillard, the director of partner advocacy at GenWEL United of Flint, one of the organizations hosting the upcoming clinic.
Individuals interested in the clinic must register using a Google form or by calling 1-800-322-4512, extension 6.
Stacy Davis, a pro bono coordinator at Legal Services of Eastern Michigan, said pre-registration is necessary because individuals must meet the income and asset eligibility requirements to participate.
Once approved, applicants will receive free legal advice about expungement eligibility and the criminal expungement process. There are different requirements depending on if a person's crime is a felony or a misdemeanor, as well as requirements depending on what the crime is.
Davis said that if people can't register online, they should still call this week to see if there are openings.
Outside of the clinic, it can sometimes cost more than $750 for a lawyer to expunge criminal records, Lillard said. However, "Clean Slate" legislation passed in recent years now allows people to apply for an unlimited number of misdemeanors to be expunged, Davis said.
In addition, automatic expungement is expected to begin in April 2023, Davis said, though that type of expungement "does apply to a more narrow class of crimes both in terms of the number of crimes that can be expunged and the type of offenses."
Michigan law states that automatic expungement is limited to two felonies and four misdemeanors, but expungement by application is limited to three felonies and no misdemeanor limit.
Davis noted that there is a "waiting period" associated with expungement, which she defined as the time after events for the conviction, like imposition of the sentence, completion of probation, discharge from parole or completion of any term of imprisonment.
The waiting period for a single felony with automatic expungement is ten years, but the waiting period for a single felony with expungement by application is five years. For misdemeanors, the waiting period for automatic expungement is seven years, but three years when it's by application.
Lillard said that even with the upcoming changes, he still thinks it's important that people register to have their records expunged this week for free.
"I'd hate to see somebody out there waiting for April 1 to happen and then it doesn't," he said.
When someone commits a felony, it stays on their record until they get it expunged. This makes it very difficult for some people to get a job, especially jobs that work with kids or other people, like healthcare, Lillard said.
"They will automatically shut you down because of your past experience," Lillard said.
Friday's event is hosted by the Genesee County Bar Association, Legal Services of Eastern Michigan and GenWel United Flint.