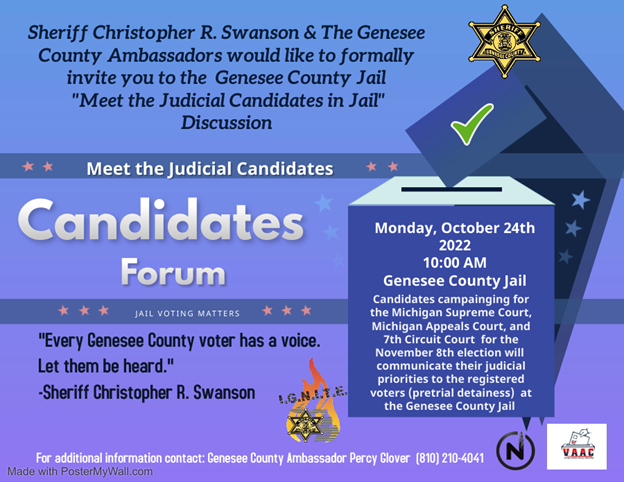 In partnership with VAAC – Voting Access for All and Nation Outside, Genesee County Sheriff's Office Sheriff Chris Swanson and the Genesee County Ambassadors are hosting the "Meet the Judicial Candidates" Forum where the candidates campaigning for the Michigan Supreme Court, Michigan Court of Appeals and Genesee County 7th Circuit Court are visiting the Genesee County Jail to communicate to the registered voters who reside there. It will be simultaneously live-streamed at https://www.facebook.com/geneseecountysheriffsoffice
This candidate forum provides education on the candidates and their platforms, as well as healing for a population of voters who are able to understand their voice matters in an election.
This is a historic and rare moment in time and reflects that it is time to review how we have done things traditionally. Voting is a constitutional right! This right is not lost for people residing in a jail in Michigan. People awaiting arraignment, trial, or sentencing in Michigan can cast a ballot while in jail. A person residing in a jail has the most vested interest in who becomes elected as a judge!
Please contact Genesee County Ambassador Percy Glover if there are thoughts or questions. (810) 210-4041. Thank you!
WHAT:
Meet the Judicial Candidates, Candidate Forum at the Genesee County Jail
The upcoming candidate forum provides Genesee County Jail detainees with the opportunity to learn about the individuals running for the Michigan Supreme Court, while also hearing from candidates campaigning for the Michigan Court of Appeals – 2nd District, and Genesee County 7th Circuit Court. All candidates for each race have received an invitation. In addition to the in-person viewing, the Candidates Forum will be live streamed on the Genesee County Sheriff's Office's Facebook page. Voter education is part of the Genesee County Jail's IGNITE (Inmate Growth Naturally and Intentionally Through Education) program. Many Michiganders who are eligible to exercise their freedom to vote are denied the help and access they need to cast a ballot while incarcerated in jail, as reflected in this report developed by Nation Outside and VAAC. This is really about changing the culture of what happens inside the Genesee County Jail and ensuring that detainees know that they not only have a vote, but also a voice.
WHO:
Candidates running for the Michigan Supreme Court,
● Richard Bernstein
● Kyra Bolden
● Paul Hudson
Candidates running for MI The Court of Appeals – 2nd District
● Sima Patel
● Michael Warren
Candidates vying for the Genesee County 7th Circuit Court
● Mary Hood
● Dawn M. Weier
WHEN:
Monday, October 24, 2022 at 10 a.m.

WHERE:
Office of Genesee County Sheriff
1002 S. Saginaw St, Flint, MI 48502
Simultaneous Live-streaming:
https://www.facebook.com/geneseecountysheriffsoffice