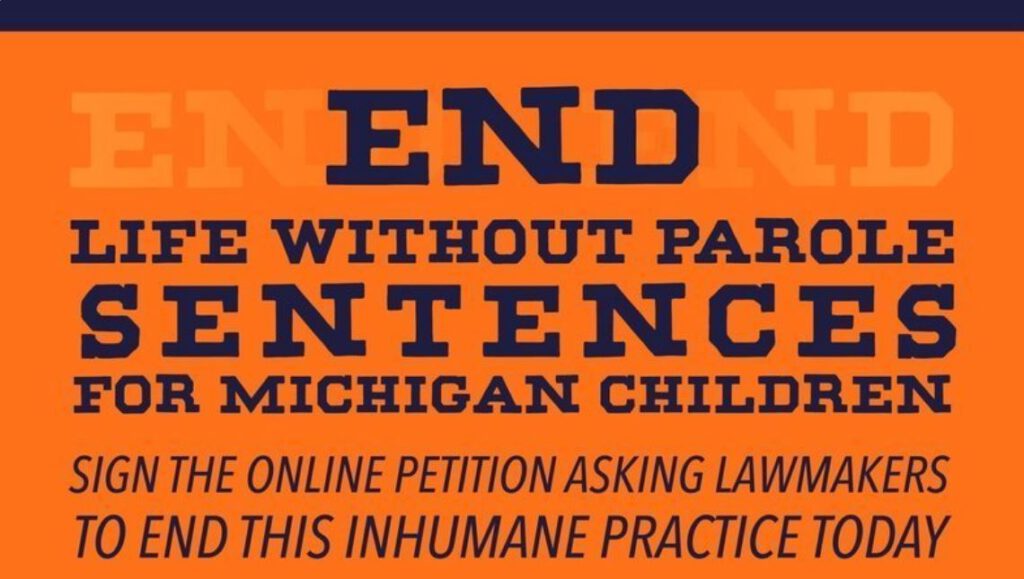 Click This LINK to send a message to our Michigan legislators to pass Senate bills 848-851 into law.
This petition was created to provide you an opportunity to send your Michigan State Representative and Senator an email message expressing support for passage of House Bills 5941-5944 and Senate Bills 848-851which were introduced with bipartisan support. The platform will automatically identify the correct Representative and Senator to send your message to based on your zip code.
If passed, the bills would end life without parole (LWOP) sentences for children under the age of 18 in Michigan. Below is the text of the message you will be sending your legislator when signing the petition which offers common sense reasons for the proposed sentencing reform.
Please share this petition widely in your social media network and invite others to do the same so we can help make Michigan the thirty-fifth state to end the deplorable practice of sentencing people to die in prison for mistakes they made when they were children in the eyes of the law.
To view a press release from the Senate bills' lead sponsor and learn additional information about the bills you can visit http://Bitly.com/IRWIN-JLWOP-2022 The information is applicable to both the House and Senate bills since they share the same language.

Necalli Ollin
Support Michigan Prison Reform
http://fb.com/groups/MichPR
http://Bitly.com/MichPR
[email protected]