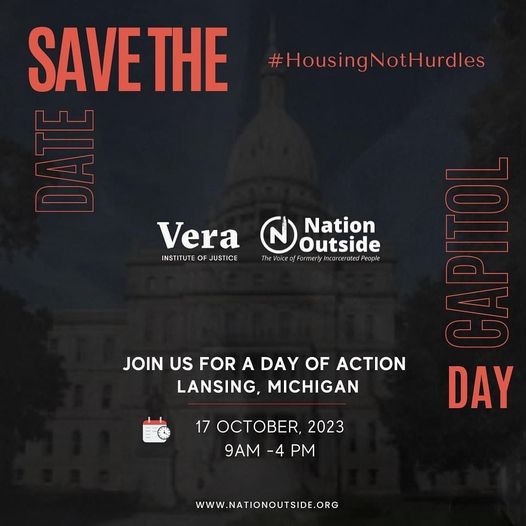 𝐉𝐨𝐢𝐧 𝐔𝐬 𝐢𝐧 𝐭𝐡𝐞 𝐅𝐢𝐠𝐡𝐭 𝐟𝐨𝐫 𝐄𝐪𝐮𝐢𝐭𝐚𝐛𝐥𝐞 𝐇𝐨𝐮𝐬𝐢𝐧𝐠 𝐀𝐜𝐜𝐞𝐬𝐬!
𝐉𝐨𝐢𝐧 𝐔𝐬 𝐨𝐧 𝐎𝐜𝐭𝐨𝐛𝐞𝐫 𝟏𝟕𝐭𝐡, 2023 𝐟𝐨𝐫 𝐂𝐚𝐩𝐢𝐭𝐨𝐥 𝐃𝐚𝐲 in Lansing!
𝗜𝗺𝗽𝗼𝗿𝘁𝗮𝗻𝘁 𝗡𝗼𝘁𝗲: 𝗥𝗲𝗴𝗶𝘀𝘁𝗿𝗮𝘁𝗶𝗼𝗻 𝗳𝗼𝗿 𝗖𝗮𝗽𝗶𝘁𝗼𝗹 𝗗𝗮𝘆 𝘄𝗶𝗹𝗹 𝗰𝗹𝗼𝘀𝗲 𝗼𝗻 𝗦𝗲𝗽𝘁𝗲𝗺𝗯𝗲𝗿 𝟮𝟵𝘁𝗵. Secure your spot now using this link
Mark your calendars for #CapitolDay2023 with Nation Outside and the Vera Institute of Justice. Our registration link is now live!
Date: October 17, 2023
Time: 9:00 AM – 4:00 PM
At Nation Outside, we firmly believe that housing is a fundamental necessity, a basic human right that should never be denied to anyone based on their past. 𝐓𝐡𝐚𝐭'𝐬 𝐰𝐡𝐲 𝐰𝐞'𝐫𝐞 𝐚𝐝𝐯𝐨𝐜𝐚𝐭𝐢𝐧𝐠 𝐟𝐨𝐫 #𝐡𝐛𝟒𝟖𝟕𝟖 ~ 𝐭𝐡𝐞 𝐌𝐢𝐜𝐡𝐢𝐠𝐚𝐧 𝐅𝐚𝐢𝐫 𝐂𝐡𝐚𝐧𝐜𝐞 𝐀𝐜𝐜𝐞𝐬𝐬 𝐭𝐨 𝐇𝐨𝐮𝐬𝐢𝐧𝐠 𝐀𝐜𝐭.
#CapitolDay2023 is your opportunity to meet face-to-face with our lawmakers and make our voices heard! The day will include:
𝗔 𝗿𝗮𝗹𝗹𝘆 𝗳𝗼𝗿 𝗰𝗵𝗮𝗻𝗴𝗲
𝗟𝗲𝗴𝗶𝘀𝗹𝗮𝘁𝗶𝘃𝗲 𝘃𝗶𝘀𝗶𝘁𝘀
𝗙𝗼𝗼𝗱
𝗧𝗿𝗮𝗻𝘀𝗽𝗼𝗿𝘁𝗮𝘁𝗶𝗼𝗻
𝗥𝗮𝗳𝗳𝗹𝗲
𝗜𝗺𝗽𝗼𝗿𝘁𝗮𝗻𝘁 𝗡𝗼𝘁𝗲: 𝗥𝗲𝗴𝗶𝘀𝘁𝗿𝗮𝘁𝗶𝗼𝗻 𝗳𝗼𝗿 𝗖𝗮𝗽𝗶𝘁𝗼𝗹 𝗗𝗮𝘆 𝘄𝗶𝗹𝗹 𝗰𝗹𝗼𝘀𝗲 𝗼𝗻 𝗦𝗲𝗽𝘁𝗲𝗺𝗯𝗲𝗿 𝟮𝟵𝘁𝗵. Secure your spot now using this link